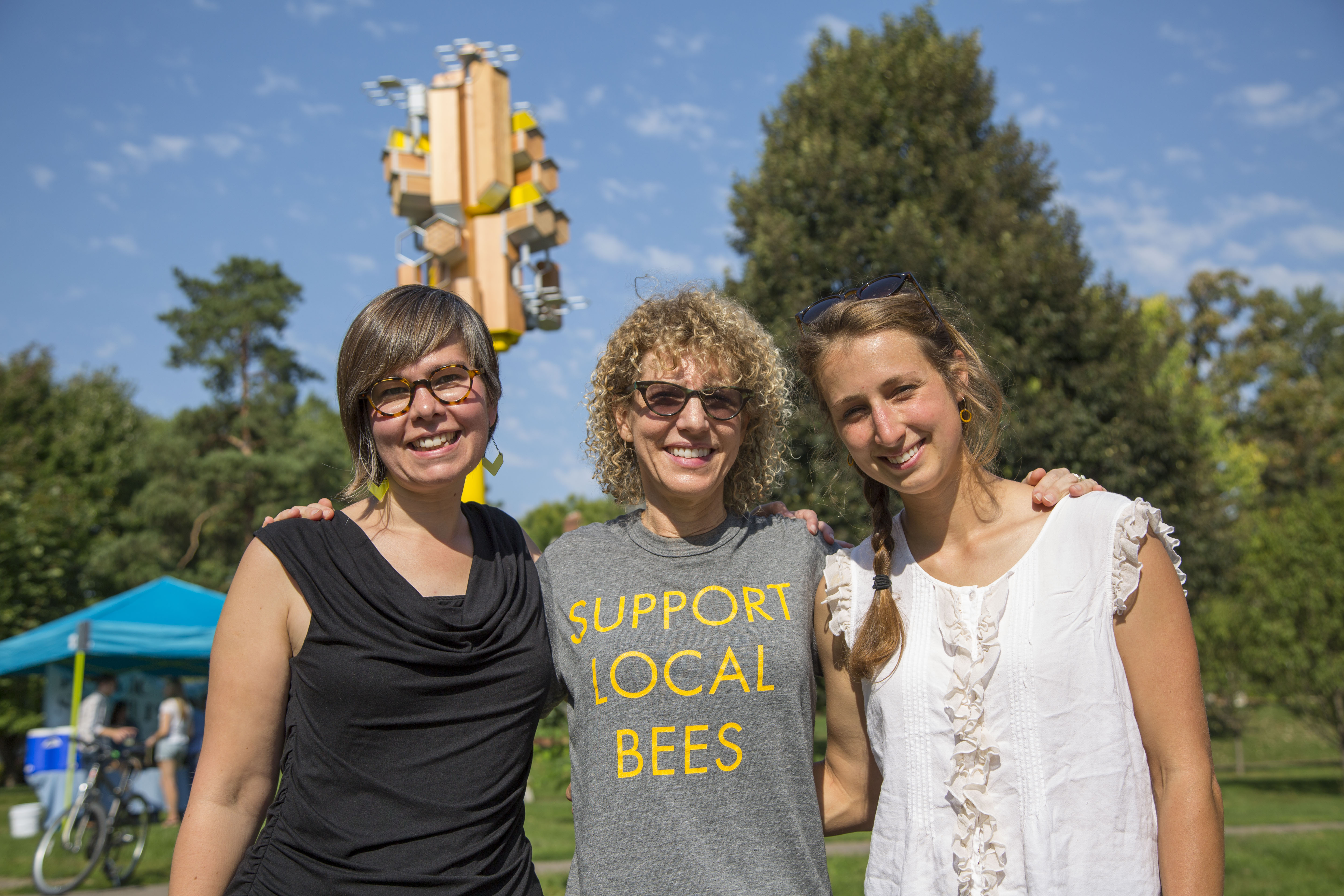 Public Art Saint Paul celebrated the installation of its first pollinator "sky rise" on Wednesday, September 13, at Como Lake, with the collaborative artistic team of Christine Baeumler, Amanda Lovelee, and Julie Benda on hand to talk with the public about the art-meets-science project.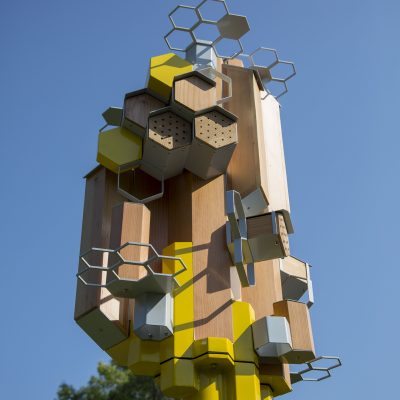 In addition, researcher Colleen Satyshur from the Bee Lab at the University of Minnesota shared information about the work her lab will be doing with Bee Real. She and Baeumler recently were awarded a $245,000 Minnesota Futures Grant from the University of Minnesota to work together to test the design, use, and effectiveness of this bee house. The prestigious Bee Lab is led by Marla Spivak, who earned a MacArthur Fellowship for her important research on bees.
The stunning pollinator "sky rise" now is providing permanent housing for wild bee species and other pollinators, such as butterflies, and serve as a scientific experiment to study how wild bees use human-made bee structures, a topic that has received little scientific research until now. It is located at 1235 W. Como Blvd, at the intersection of W. Como Blvd., Nagasaki Rd., and Horton Ave. near a bench by the walking path along the lake.
The "high rise" is a complex structure, about 4 ft. high and 3 ft. in diameter, made of a metal framework and multi-paneled wooden forms to attract and house different species of wild bees and butterflies. It will sit atop a pole 9-10 ft. above and 6 ft. below grade.
This is the first "sky rise" installed; a second will be added near Lake Phalen later this fall.
About Bee Real Bee Everywhere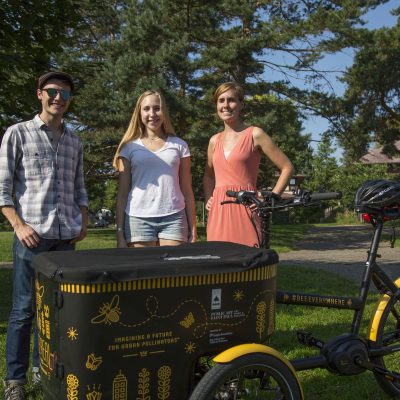 In addition to the pollinator "sky rises," the Bee Real Bee Everywhere project, supported by the James S. and John L. Knight Foundation and the Saint Paul Public Art Ordinance, involves two other main components:
"The Office of Urban Pollen Exchange," a bike cart with fun materials that education assistants take to festivals, farmers' markets, libraries, and other gathering places to engage people in many neighborhoods about the importance of helping to sustain our bee and pollinator populations.
Small bronze bees by sculptor Brad Kaspari that will be given to bee advocates for their work to support bee habitats. Designed to be displayed on the front of people's homes, the intention is to create a network of tiny public art. Bronze bee distribution will begin in late 2017–into 2018.
Read more about the pollinator "sky rises" and Bee Real in the Pioneer Press and Star Tribune.