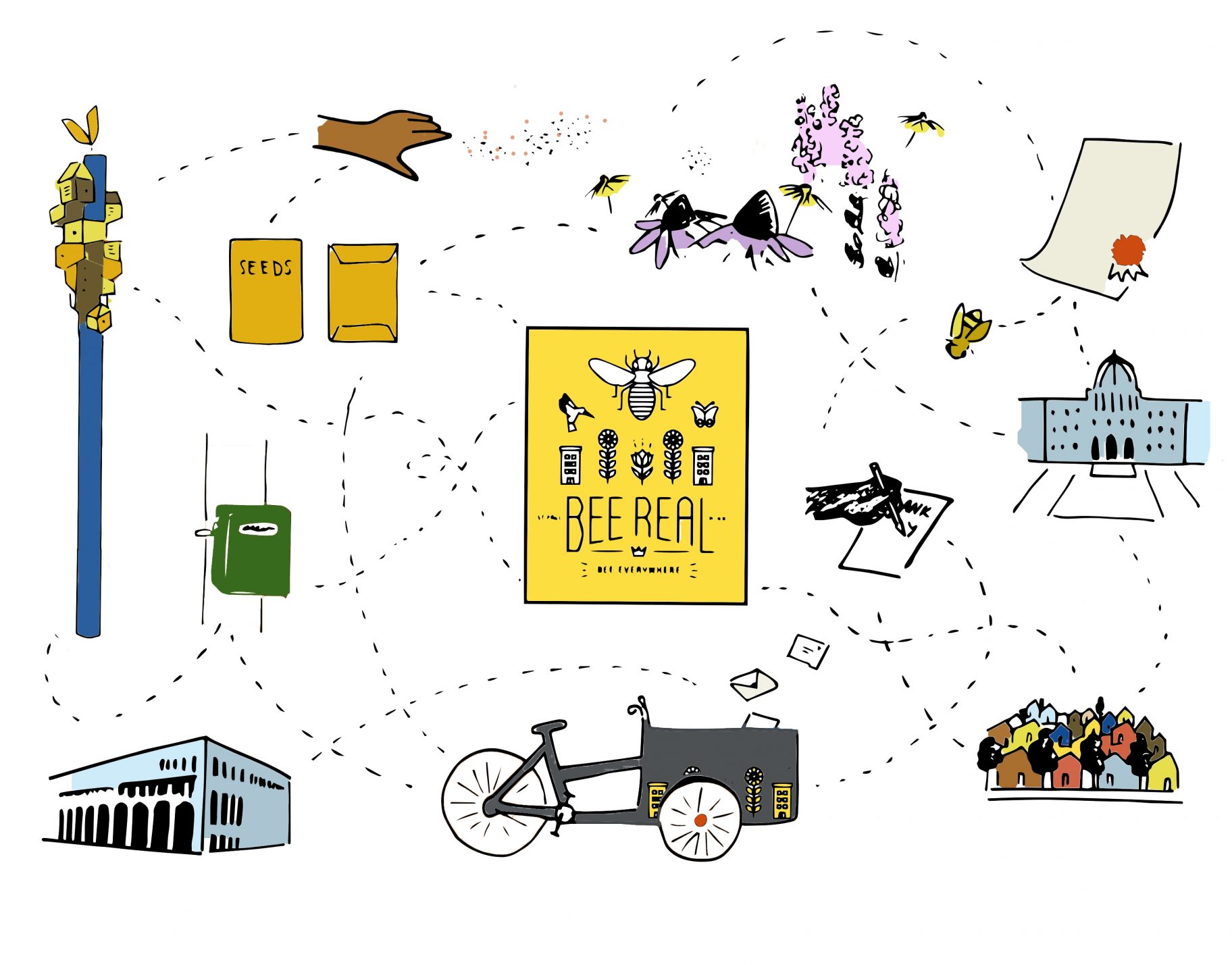 Public Art Saint Paul is looking for two enthusiastic, nimble, and bee-friendly education assistants this summer! If you love biking, buzzing around St. Paul, and teaching others about the local, native pollinators humans cohabit with, this is for you! Our educational assistants will be responsible for operating our mobile pollinator post office, an electric assist bike cart that disseminates information and activities for our newest project Bee Real Bee Everywhere. As a cross-disciplinary project that works to research, educate and create policy change, we encourage both artist and science minds to apply. Please see Job Description for details.
**Submit a one page cover letter and resume to julie@publicartstpaul.org before 5pm on Friday, March 31.
Bee Real Bee Everywhere Education Assistant
Job Description Summary
Employment Status: You are a temporary part-time employee of Public Art Saint Paul (PASP).
Title: Education Assistant for Summer Program Bee Real Bee Everywhere
Salary: $10 per hour, paid bi-weekly.
Hours and Schedule: Beginning June 1st, 2017 and continuing through August 31, you will work up to 20 hours per week for a total of up to 250 hours. Your scheduled availability will be 3 days a week for Bee Real Educational engagement and preparation. One day will be set aside for Program operations including maintenance, material preparation, and scheduling. Two days a week will be educational engagement, which includes biking to local public centers to provide activities, policy education, and pollinator awareness to youth and adults. Some weekend shifts will be necessary. This schedule is flexible and may change by mutual agreement depending upon work demands and event schedules.
Note: Upon mutual agreement, we may add hours and responsibilities for other PASP projects through the summer, at same salary noted above.
Responsibilities:
Bee Real Bee Everywhere: You will assist Public Art Saint Paul's City Artist Amanda Lovelee and Project facilitator Julie Benda with programming and events of the Bee Real Bee Everywhere Bike cart and mobile pollinator post office. This includes Cart and Activity preparation, set-up and hosting of events. This position is also responsible for biking the Bee Real Bike cart around residential St Paul twice a week for the engagement activities.
Conditions of Employment:
Employee Handbook: Public Art Saint Paul's Employee Handbook provides information about our employment practices and policies and the benefits provided to you as a valued employee. It also informs you about the conduct we expect from you within our work environment and as a representative of PASP in the community. The Director of Operations will review the Employee Handbook with you and require a signed receipt and acceptance of its conditions.
Reporting: On a meeting to be mutually agreed by you and those listed here, you report to (a) Amanda Lovelee and Julie Benda for Bee Real Bee Everywhere.
Performance Review: Your work will be reviewed in an on-going, informal manner by Amanda and Julie through the term of your employment.
Tenure: Your employment start date is June 1th, 2017 for a total of up to 255 hours of work through August 31, 2017.
Salary: You will be paid $10 per hour on a bi-weekly basis, following the PASP Employee Payroll Schedule.
Places of Work. You will work across the City Saint Paul
Sites of program production: various locations throughout the City of Saint Paul.
Parking. Depending upon availability, you may be eligible for parking reimbursements.
Insurance: You are covered under Public Art Saint Paul's General Liability and Worker's Compensation insurance policies.
Responsibilities For Bike Cart Activities:
Assist in coordinating and communicating Bee Real Bee Everywhere Schedule
Assist in planning Educational activities, postcard props, and events
Weekly biking of the Bee Real Bike Cart
Assist in set-up and production of Bee Real Bee Everywhere activities
Gather, report and review feedback of engagement
At the end of the season write up a report as the educational assistant
Attend mandatory training
Set workshop materials, pollinator games and distribute seeds
Organize the mobile Pollinator post bike cart and supplies before and after workshops
Assist with photography/documentation for PASP records and use in public awareness and social media
Desirable skills and experience for Bee Real Education Assistant:
Loves Urban Biking
Physically able and comfortable operating a large, electric assist bike with cart. Our bike will be bigger and weigh more than a conventional bike.
Ability to communicate with people from different age groups and backgrounds
Confidence in learning and conveying information
Confidence working with people for the first time and having positive interactions
Enjoys working with youth in large groups, at events and local festivals
Interest in cross disciplinary art and science practices
Interested in environmental education and research
Has an interest in pollinators and pollinator habitat