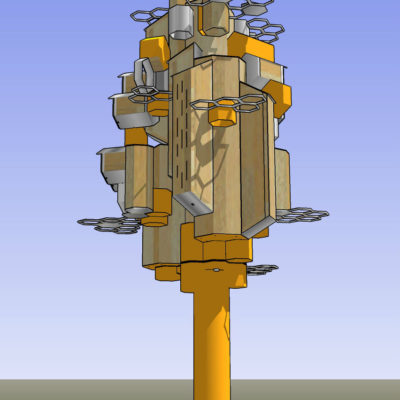 Public Art Saint Paul's new Bee Real Bee Everywhere project dives into the current conversations about the plight of bees and other pollinators. Studies show that the loss of natural habitat for many insects threaten our food security, thus, new ideas have arisen about safekeeping these species. Many of us are concentrating on preservation of our wild and lesser-known nectar hunters and not only on cultivated honeybees.
Bee Real Bee Everywhere will be buzzing in summer 2017. Our artist team of Christine Baeumler, Amanda Lovelee, and Julie Benda have been hard at work designing for an urban bee habitat "high-rise" that will invite bees to take up residence. The first one was installed in the Como Lake neighborhood in July 2017. Neighborhood residents in "high-rise" areas can participate in many ways with Bee Real and do their part to support bees.
The artists also have developed an educational outreach cargo bike, called "The Office of Urban Pollen Exchange," that will visit Saint Paul libraries and parks for bee education activities. Sculptor Brad Kaspari is creating tiny bronze bees that will also debut in 2017 as part of Bee Real Bee Everywhere.
We are grateful to the John S. and James L. Knight Foundation for an Arts Challenge grant that supports this project, along with the 1% for Public Art Ordinance in Saint Paul.