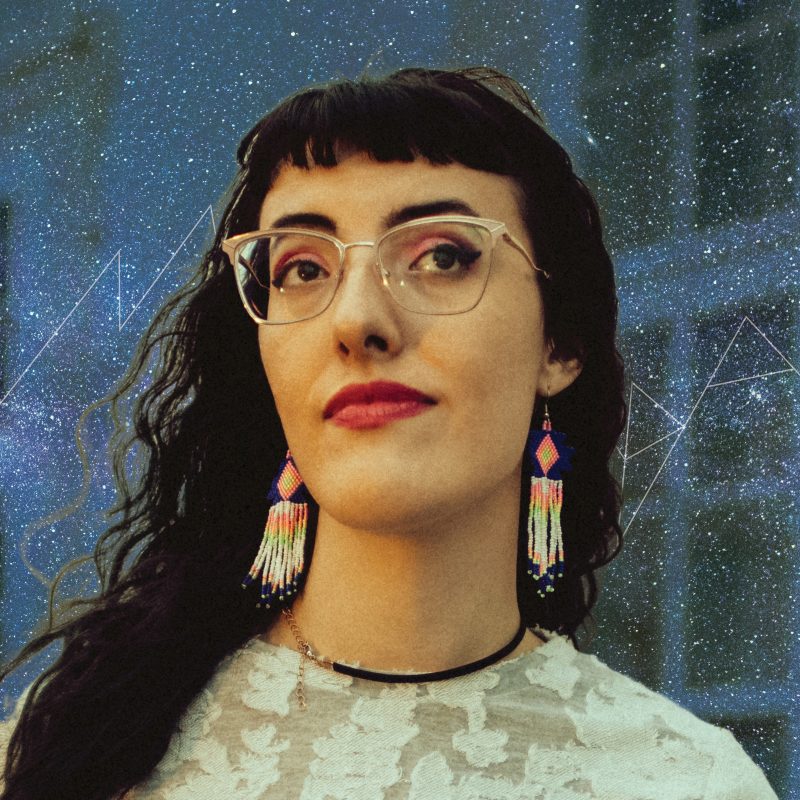 Constellation is a cohort of seven artists, Constellation: Video Storytelling, each creating a short video to be presented in a looped series that will be projected onto the Downtown Saint Paul Public Library – George Latimer on Rice Park. Videos shall interact with the architecture of the library building, transforming it into new visions for public space and public knowledge. Artists include: Za'nia Coleman; Boo McCaleb; SEE MORE PERSPECTIVE; Witt Siasoco; Miko Simmons; Jonathan Thunder; and Moira Villiard.
Through public art collaborations across Minnesota, Moira Villiard (pronounced "Miri") is a multidisciplinary artist with a mixed Indigenous and settler heritage who uses art to uplift underrepresented narratives, explore the nuance of society's historical community intersections, and promote community healing spaces. Moira is a dynamic visual artist, proficient in a variety of artistic genres, including portraiture, illustration, graphic and digital design and as a muralist. She is also a community organizer, curator and passionate arts educator concentrating her efforts around issues of equity and justice including: arts access (creating platforms for underrepresented communities within the arts), creative placemaking, environmental sustainability, youth empowerment, and acknowledgement of Indigenous land, culture, and history.
Moira grew up on the Fond du Lac Reservation in Cloquet, MN and is a Fond du Lac direct descendent, Lac Courte Oreilles Band of Ojibwe lineal descendant, and Moravian Band of the Thames Lenape direct descendant. For three years she worked as the Arts & Cultural Programming Coordinator for the American Indian Community Housing Organization (AICHO), the place where she had her first art exhibition at 18 years old. She currently works as a freelance consultant, designer, speaker, and grant-writer and is the project director and lead artist of the Chief Buffalo Memorial Mural site in Duluth. Her educational, activism-rooted exhibits "Rights of the Child" and "Waiting for Beds" are currently on tour.
In 2021 she debuted her first animated work for Illuminate the Lock, a 10 minute, 150' projection piece titled "Madweyaashkaa: Waves Can Be Heard", and has since collaborated with Indigenous musicians and writers to create animations for "A Winter Love", "Mináǧi Kiŋ Dowáŋ: A ZitkálaŠá Opera", "Jonathan Thunder: Good Mythology" (PBS American Masters), and "Extraction" (poem by Tanaya Winder), among other films.
Her work has been featured in numerous shows in Duluth and around Minnesota, including her recent solo show, "Rights of the Child" at Zeitgeist, and group shows "Beyond Borders" at MacRostie Arts Center and "We the People" at the Minnesota Museum of American Art. She received her Bachelor's Degree in Communicating Arts (Global Studies Minor) from the University of Wisconsin-Superior in 2016 and an Associate of Liberal Arts degree from Fond du Lac Tribal & Community College. Moira Villiard is a recipient of a 2022/23 MCAD–Jerome Foundation Fellowship for Early Career Artists, administered by the Minneapolis College of Art and Design and funded by the Jerome Foundation. She is also a 2023 Community-Engaged Practice Artist Fellow. 
Where are you from? 
I grew up in Cloquet out on the Fond du Lac Reservation, so that is where I've spent most of my life, but the dynamic at home was very complicated (in a not so good way). I wasn't allowed out of the house much after a certain point, and in recent years I've come to terms with the realization that it was a hoarder environment. I consider my life and existence starting in Duluth.  
How old were you when you moved here? 
I moved here when I was about 23 or 24, so not terribly long ago, but people think that I have been here forever because it was like, "Bam!" I jumped right into doing art. 
What was the medium that you started with when you first began creating? 
I'd always done art and always had an interest, but you could argue that I wasn't very technically good at art for a long time. In school some of my lower grades were in art classes, at least early on.

Why do you think that was?

I think a lot of it was not following directions and not doing things that looked pretty. Until I was a preteen and social pressures sort of kicked in, I was really off the wall with my art. I still have a sculpture I made in fifth grade. Everybody was working with clay for the first time, and they were all going to be fired in the kiln. I remember this one popular girl sculpted a perfect cow and I thought to myself, "Wow, she is good!" Everyone else is sculpting octopi and other animals and houses. Then there was me. I just wanted a toy that I could have for imaginary stories. 
I think it was a mindset and the effects of being so poor; I had access to this professional medium, but I could not commit to making it into anything good because I wanted to create a multi-use clay sculpture. It ended up being this long strip of clay. In my head, it was a hippopotamus remote, and it had a subtle kind of hippo head. Then it also had these little divots in it, but it was just a blob with a handle on it. I still have it, and I burn incense on it now, but 
back then it was my magic remote for casting magical spells or whatever. I'm sure the art teacher thought I was a weird one that made a blob. I also painted it every color, and it was just this colorful blob with zero sense of structure or form.
I was all over the place. In high school, I had an art teacher who was really good with kids like me. She let me paint murals throughout the school, and we are friends now.  She actually told me, "I just let you do whatever you wanted, because it seemed like if I were to give you instructions, it was just going to make it an unpleasant experience for you, so I just let you play with the materials."

Was that beneficial?

I believe it was, because I became really interested in doing things in a more technical way, but I was still learning how to do it on my own. She also took me and the other art kids dumpster diving at the end of the year because we went to a well-off school. 
That is so funny that a teacher would do that.

Yeah. Well, luckily the dumpsters were right outside of the art classrooms, and at the end of the year, they would have the big dumpsters going through the halls as people are throwing out their stuff. If you go to a slightly better off school, it is basically brand-new things that people are throwing away. The elementary school that was also attached threw out all crafts supplies, like vintage buttons and paint markers and all these things, so I got a ton of art supplies after one of our dumpster dive hauls. Somebody was even throwing out these vintage National Geographics going back to the 1950s, like, and of course the hoarder mentality was like, "Okay, I am going to take all of these." My mom was like, "Okay, that is weird, but whatever." She let me take home all these National Geographics. When I graduated high school, I had zero plans of doing anything with my life because I was raised in a way that discouraged going to college and blah, blah, blah. I was planning to get a job at Walgreens, cause their commercials were fire. They made Walgreens look like this magical Hogwarts with candy pouring out of the walls. So, my dream was to work at Walgreens. 

Did you?
No, because I wasn't really allowed to work, again with the complicated upbringing, I wasn't permitted a lot of independence. That was, weirdly enough, one benefit, because I have never had a regular job. I have always worked in the arts and in areas that interest me. The first six months after graduating high school, I had these National Geographics, and I wanted to draw people because I sucked at drawing faces at that time, so I started drawing portraits from there and ended up with 30 to 40 portraits from those books. 

Were they good? 
Yes! I figured out realism and then I got some craft paints and canvas board, and I started painting when I decided to go to college (I made the case at home that I already had college credits from the program I was in at high school, and said it would be a waste if I didn't use these free credits). I had a work study position on campus at FDLTCC, so I was able to buy cheap art supplies. I spent a lot of time in my room, so I made a lot of art within the first six months, and that was enough practice to truly have a body of work and that led to my first art show when I was like 18. It was at AICHO, the American Indian Community Housing Organization in Duluth. They had just opened, and they were looking for Native artists. I was going to school with one of the people who worked there, and he had a show there, too. His name was Rocky Makes Room for Them. We would both be in the back of our college science class, doodling like art kids do in math and science classes. We ended up getting a campus job together, and he asked if I had enough art for a show, and I just assumed this was my big break and said, "Yes." I did have the work, but I had never done a show before.

Fake it 'till you make it, right?

Literally! I dropped off all my stuff a week before the show. In my mind, I thought galleries had a lot of money, so I thought they would frame the work for you, so I dropped off all my unframed sketches! 
I was incredibly lucky because AICHO had just begun their art programs, so they did not really have an established gallery practice yet. I think they thought it was weird, but maybe some artists do not frame their work, so they paid for my frames. That was about 50 pieces of art that I was able to travel with to various places. Eventually, art shows became this social space for me. With isolation, there was geographic isolation growing up on the Reservation, and the financial isolation of never ever having any money, to social isolation and having a very controlling home, that is not letting you leave the house. There was so much isolation, and then suddenly, having an art show just felt like the birthday party I never had. People were showing up. They were here for me, and they liked what I doodled. Some of my teachers showed up as well as community members, and it was a weird reconnection point too, because my Ojibwe language teacher was also working at the building. She told me she remembered me when I was little, and I gave her one of my paintings and signed it: "To my favorite Ojibwe language teacher." I also met my older sister, who was living there, because it is technically a housing facility, so my art opening was also a reunion with one of my relatives.  
Did you find that you were an extrovert?

Oh, yeah. It might be because I had been repressed for such a long time, so being able to be around that energy and finally feel like I was a part of society in some way. I always have felt like there's compounding factors in that for everybody, and we all have varying degrees of feeling our otherness. Most of the time, it felt like I was not even on the same planet as other people. In a way, that was helpful because, in my personality today — besides the trauma and the mental health issues that come with that — it has also made it so I can step out of uncomfortable spaces  and move at my own pace, and I am okay with that because I have always been outside of the norm. It is like an ongoing line of order and everything. I have been able to step outside of time and just go to art or food as my hobby. 
How did you transition from sketching to painting? Was it a learning curve, or was it easy?

I'd always wanted to paint, and I was obsessed with Salvador Dali as a kid. His work was the standard that I wanted to reach in life. All the surrealist painters who could take realistic styles and create dreams. It is interesting to think of the influences of people like Jonathan Thunder, whom I met around that time and fell in love with his work. He was like an Ojibwe surrealist doing weird stuff. Karen Savage-Blue, whose artwork I grew up seeing, and having this realization that it is in the nature of Ojibwe painters to rely on dreams and like dream-like work to paint. It makes me feel like I was meant to do this kind of work. I cannot really describe it, but it just felt right or validated once I saw people in my community are doing this, and like they are the level of Salvador Dali, too. I do not have to be Salvador Dali; I can be just me. 
For a long time, it felt like I went through this initial period of feeling like "I don't have a style" but now I'm revisiting more of the style in the stuff I did as a kid compared to when I got professionally into work and more of the technical side. My early work was a lot of portraits, and black and white too, but eventually I transitioned into full blown color. There are periods, and if I am ever famous and become part of art historians of the future, they will be able to break it up into what I was doing at various points. Getting into painting, I was inspired by ego in some sense, too, because my whole life I used to say, "I am going to be famous, and I am going to do it." 
While there are levels of comfort that come with fame, and I enjoy the fact that there is constant interaction with people, I have so many years of isolation to make up for. I am always excited when people say hi to me. However, there is also the piece of it, like when I'm sitting in a coffee shop, and I have a look around because people care too much about the things you say or the feelings you have. Especially after the fellowships I have gotten this year and feeling that a little bit more, where people are really aware of you when you walk into a room. I do not think there is a level of comfort anywhere in popularity, no matter what. Once you become known for something, people treat you differently, and it's something that becomes hard to retract from. 
I do not know how I feel about anything now, but definitely, as a kid, a desire was present, and I was very spongy. Since I had limited access to so many things, whenever I was in a space where I had access to knowledge or resources, I made the absolute most of it. Whenever an older person would tell me not to make certain mistakes, I would say, "Okay, I won't." There are so many stories and voices in the back of my mind, even with talks about imposter syndrome. You look at people who have it and who are so phenomenal, and they are the real deal, but they have the lowest confidence. I do not want to do that, because it also makes people around you feel sad when you do not believe in yourself. For example, financial mistakes people have made around not being organized with their taxes and whatnot at 18. I wanted to learn from that, even though I failed math. I am still going to learn these things. 
And did you? 
Yes, and I made a goal for myself. I planned to do one show per month for the rest of my life.  That was an early goal that I had after my first show. Later, I stretched that definition as I started doing different mediums, like doing one public art experience per month for the rest of my life.  After about five years of that, though, it honestly just became my life. Every day I do something in that vein, but those goals helped as a young person just starting out. I had 150 shows on my resume or something; I was dedicated. 
I feel like yours is an underdog story, and I feel society loves an underdog story. Do you feel resentful that your trauma is used to tell this story, and how do you navigate that?

Yes, I am resentful that my trauma is used to tell my story. I understand that everybody loves an underdog story, and small-town writers or people who have access to those platforms like to tell your story and will really milk that specific part of it. I have had experiences of quotes being made up as if it were from me, because it just seemed like it would be cute to do that. I have had instances where I usually always ask reporters if I can look at the material before it gets published. A lot of the time, that is not something that they allow, but every time I do not look at it first, they publish something out of context. It is usually something that I said in confidence, or they really elevate the poverty porn aspect of my story with emphasis on my struggles on the Rez and poverty and abuse. Sure, that is a huge piece that I cannot get rid of. I do not like it, but it is there, however I feel like sometimes it can cause distraction from the work.  
So how do you want to define yourself? 
Who knows?

Is it ever changing?

I think so. It varies, depending on what the situation is. I focus, over two-year periods, on specific topics, ideas or issues in the community, but I would rather focus on the issue than the poor girl on the Rez. I do not think it is that hard to shift into that other area. It is so tempting to just focus on that stuff because American culture media is very heavy into the idea of following  your dreams or pull yourself up by your bootstraps. In my opinion, luck diminishes to some extent, but I also think of it as intentional luck of thinking. I feel like I will be luckier if I go into this space. I am going to make the choice to be in places where I could potentially have a happy accident or happen to meet somebody who is able to help me a little bit more. Knowing where to be lucky, but it is still a gamble. 
The harder you work, the more people are going to see it, and that gives you more opportunity, because it is more eyes on it. 
Yep. Something too that I have also reflected on a lot is the nature of being a white passing person in my family and why, of my family, I at least feel like I got more of the European phenotypes. I wonder how much that has played into me not experiencing exactly the same traumas as other people in my family, how much does that play into not being pushed so far as to do drugs or to be targeted explicitly. I think about those things, but I don't know, necessarily, what to do with them except to put them out there and be aware of them. 

At the same time, if I'm chosen to be part of something because I am Native and being tokenized, it's uncomfortable. But at the same time it's important to be in the room. Now that I have platforms, I can express what I am feeling in the moment. 
Do you feel it took you a long time to get there? 
Yes, therapy helped. Therapy helps with everything.
Going back to your artwork, when did you transition from physical to digital art, and what was the learning curve for that? 
I always did graphic and freelance graphic design, and I had a cool job at the Tribal college when I was there. Again, one of those fateful lucky opportunities, where I was looking at the job board dreaming of getting a job. A staff member walks by and asks if I was looking for a job, and of course, because I am at the job board. Then he asked if I consider myself artsy and good at writing. Apparently, I look like an artist. I replied that is exactly what I do and that is it. That is all I am good at, and he ended up asking me to stop by for an interview. I ended up getting a job as a work study in the marketing department, and he was so cool, because he was very type A and organized. He tightened up the loose cannon side of me, and I was only making $7.00 an hour, but he would let me use my hours to learn and watch YouTube videos. I learned Photoshop and the whole Adobe Suite, so my graphic design education started from watching YouTube on paid time, which was nice. That is the value of a dime, and it was a huge lesson.  Fast forward, about all my income was based around graphic design for a while, for different projects and places. Suddenly, the pandemic hit, and I quit my job at AICHO in February 2020. 

So right before the pandemic?

Yes, and now I was ready to pursue the famous artist lifestyle. I was doing some public art with the community engaged murals, where people would help me paint. I got into that, partially because I could not use my arm for three years to paint, so, I had to find different ways to paint and having people help me paint has always been a way for me to take the physical labor part out of it. I still do not have a diagnosis besides chronic pain, which is not helpful, so I must be incredibly careful with my body when I do different art forms. People don't realize that being an artist forces you to be good at math, if you are doing it full time. You must do all the finances and be administrative. You must do marketing and HR, as you work with people. Additionally, it is a physical job. I think people assume artists are the people who failed gym class, but I must do so many squats.  
It's pretty wild! The physical pain stuff is how I got into public art. I was planning to pursue more of a public art career with people present helping me and dozens of people all working together.  However, a month after leaving my job, everything gets canceled. All my work with huge classrooms was canceled. All my travel plans were canceled, and I was ready to travel the world. I had to shift fully into the graphic design area, where I ended up doing a lot of the marketing in Native communities regarding vaccines and creating campaigns for that for nonprofit organizations that worked within the clinics to distribute those materials. I had a lot of nonprofit clients in need of material, and then there was a lot of money from the pandemic going into campaigns. Then Illuminate the Lock was my first animated piece, which was very vulnerable, because we had to make this stuff move in action. Jonathan [Thunder] was my mentor on that project and the person I could consult about different pieces. I made a ton of mistakes just within constructing the file, and things like that.

Did you learn quickly, or was it something you had to scrap? 

I had a year to just do it, and then Jonathan had connected me with Rhiana Yazzie to work on her film, A Winter Love, because she wanted to add some animated pieces. That one was technically my first animation where I made early mistakes to the point where I had to fix things even a year later. But I think for Madweyaashkaa, which was the piece I did for Illuminate the Lock, I learned fairly quickly. I didn't do it, right, but I learned afterwards all the things that would make it a lot easier. Now, when I do these, it is an even longer process because my process is improved.  
It's like building a house. You can build it out of plywood, but then it does not last as long as if you used real wood.  Do you feel you learn better from mistakes, or would you rather not make mistakes at all?

Again, with that period when my chronic pain issue was at an all-time high, and I was not able to do any painting. There was once again that trajectory of society and time moving in this line, and it was at the height of when I was starting my painting career that my arm died. So now I am back outside of this line once again and I was just watching everything move forward. Now I am stuck here with an arm that does not work and heavy doors everywhere! All my tendons are inflamed, but it would not seem to reduce, so I had a surgical procedure done to move my nerve. It did not help, though. I think the issue is that I am prone to fibromyalgia, or EDS, it's something in the genes because I see it in one of my brothers' and I see it in my mom in old family videos. They can definitely find the inflammation, but they don't know why the inflammation occurs, and I feel like I'm on fire all the time. Leaving my job helped a little bit with managing the issue, but it is just another reason it is hard to work in an actual workplace because my arm stops working so I cannot send any emails. I also have a serious migraine disorder. I feel like a lot of people do. I don't even know, but something in society is making people sick. Probably capitalism.
I make a lot of mistakes. Everything is in progress, and I feel like nothing is ever complete. Additionally, I do not get to practice anything because of the physical setbacks. I used to do sketching practices in coffee shops, because my final projects are always my practice. I go into things, and I may not know what I am doing, but I am going to figure it out and see it through. I have also had to learn to accept things, and I realize that it is all about perspective. With my artwork, I do not think I can make anything that is ugly at this point, because my brain has the vision and I am going to make it look nice or show experience in a way that makes people feel good, no matter what. Many artists are amazingly talented, but they make people feel uncomfortable when they say things like, "Oh, my work is so ugly." I just want to tell them to shut up, you know! 
With that lesson, though, I have just learned to apply it to everything I am doing, which is practice. I can let go of the desire to have my work be inaccessibly perfect. I can let go of the desire of creating the ultimate piece that art critics are going to love. It allows me to create work that people can generally appreciate. Also, they can see my little mistakes here and there, and maybe do better than me, or learn from it with me. Like a lot of my exhibition shows right now, I am usually doing stuff at the last minute, and my arm is dead. Once that happens, well, that is it, and I have to stop and that is the end of the show there. If my pieces are traveling elsewhere, thankfully, I can always work on the pieces more and make them closer to what I want them to be. That requires me not to document them too much in that early phase, and avoid progressing, but I honestly always have unfinished work on display. 
There's so much history, but a lot of it is also racism. How do you put that into work without sounding preachy? Or do you not care about being preachy?  
The cliché questions you'll hear me asking in all my workshops is something like: What is missing? Or is there a story that's not being told? 
Regardless of whose story it is, we give it a space and I try to open up space for whatever stories that may be missing. Like with Madweyaashkaa, I hired one of my mentors and favorite humans of all time, Millie Richard, who's Dakota and was the narrator. I realized into the project that I think it had only been Ojibwe representation in Illuminate the Locke, and so I wanted to help shift that, especially with so much of Minnesota, particularly the Twin Cities, being connected to Dakota people. "What is missing?" What has been missing in the trajectory of the people they have chosen for this? I was chosen, and this is cool, but I still want to make sure that the right people are here for this. 
Why is it important for you to give voice or to be part of a community rather than just yourself? 
It is more than just giving voice because the voice is already there. However, just giving the space for it to be used and the tools for it to be revealed, in some way. That just makes better art, to be honest, it creates art that people care more about because there is more than just the one artist and their ego. Personally, a part of what I enjoy in the process of doing the community art is that I get to be an audience member towards the end. Creating the distance and separation from myself when it is done allows me to enjoy it with everybody else. I do not have to feel like I claim whatever it is I created. This also means I can't predict what it's going to look like at the end, either. I let whatever art "spirits" move through me, like a dissociative process. 
Ironically, earlier on, I would get comments and questions focusing on my lack of focus regarding my voice, telling me not to undervalue myself. I'm not! I just want to experience it in a way that I am aware of, and it is in my head. I know what I want to envision, but I'm also curious about what others are interested in seeing and how we can collaborate in this spontaneous chaos. The chaos is my favorite. 

That is your childhood.

You are giving me an epiphany. I think when you grow up in chaos, and then you begin a healthier life, it is almost boring. I feel like people — artists, especially — who go the ego route end up self-sabotaging. You get to a point where you need to feel the chaos and go, "Yeah, I need to feel the chaos to feel inspired or feel alive." It is like maybe a healthy self-sabotage, where I am destroying myself and my work in a way that is constructive with other people. 
One day, it will be level, and then you will be on to the next thing, after the next. 
I give a lot of collaborators anxiety, though. Sometimes I try to be trauma informed in that, but simultaneously, I say "No, it is healthy, and this is our space to relinquish control, deal with that anxiety of not knowing if it is going to work." Or to have no idea what people are going to interpret or whatever occur. 
How does the chaos play into the work you are creating for Constellation?
It is still in that chaotic process of animation, and I am really getting good at especially, for myself. My collaborators create work first (in this case, poems and music), and I will respond to it, then finally I will do the final weaving. If each of my collaborators is the thread, then I am the one who makes the final fabric at the end with all their little threads. Also working with Heid Erdrich and Dustin Blacketter, is a cool thing. I thought of it intentionally curating people with different experiences into the same space. My musicians are my half-brother Luc Josts and then Jake Vainio. They are geniuses, although they work very differently. That is something I learned in this process, though I'm unsure of how much anxiety I gave them both in this process. What they have created is just beautiful, and there were moments that I am sure came of pure trust. I think I told my brother at some point that there's no possible way this piece can be trash – everyone working on it wants it to be good, and has the ability to make something beautiful, and whatever the piece will be, it's meant to be. If we accept that piece and create something that we trust will work. That is my art form — making things work in the end. I am excited to put together the final animations for it and to have it travel to more places.