Bee Real Bee Everywhere is a multi-faceted project that promotes awareness and habitat for pollinating insects in Saint Paul's urban core. Three sculptural pollinator "Sky Rises" are installed along public parkways in the Como and Phalen neighborhoods near areas of forage and water.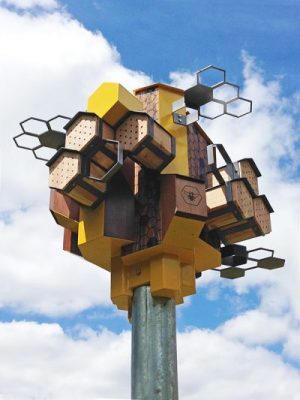 Each Sky Rise serves as a home and research site for native nesting bees, which are under threat due to habitat loss. Monitored by University of Minnesota's Bee Lab, the sites provide information and data on the patterns and preferences of wild, solitary pollinators in an increasingly dense, built environment.You can visit the Sky Rises at the following locations:
Como/Hamline Site (Woodland Nature Classroom)
Along with these futuristic floating cities, our team disseminates seeds and education via the Office of Urban Pollen Exchange, housed within the Saint Paul City Parks. Through our Pollinator Post Cargo Bike delivery, we send legislative love letters, disperse bronze bees for pollinator protectors, and pop-up around the city with interactive games for all ages. Our goal with Bee Real Bee Everywhere is not only to envision cross species cohabitation, but also to embed this awareness within already successful city systems.
Bee Real Bee Everywhere began in summer 2017. Our artist team of Christine Baeumler, Amanda Lovelee, and Julie Benda are glad to bring a second year of engagement and sculptures courtesy of Public Art Saint Paul in 2018.  If you are interested in having the Bee Bike/Pollinator Post pop-up in your neighborhood please contact: bees@ci.stpaul.mn.us
Design
The design of the Pollinator Sky Rise is a demonstration of both function and form. A vision of future cohabitation, the sculpture operates as a permanent public art piece as well as a transitory space for living things. Loosely based on constructivist principles, the artists decided to erect a floating city for bees, which borrows from the style and concepts of the international art movement and centered around using art as a tool for the common good. The habitat thus re-imagines and calls out the necessity to acknowledge the shared real estate of our increasingly dense city, and uses the language of city infrastructure to create a beacon for these "mini-metropollentanites".
Science
The Pollinator Sky Rise is a nesting bee habitat developed in conjunction with researcher Colleen Satyshur at the University of Minnesota's Bee Lab. With her help, the Sky Rise is engineered specifically to attract native, solitary stem nesting bees such as mason bees and stem cutting bees. Through our project, as well as a MN Futures Grant, her team is able to monitor and collect data on the nesting patterns of these little known species.
Policy
With the help of Pollinate MN! Bee Real Bee Everywhere was able to acknowledge the hard work that has pushed our city forward to better and healthier practices for pollinators across the metro. Whether changes to lawn care practices, policy implementation, increased education and awareness or support for further research, Bee Real Bee Everywhere knows how important it is to celebrate those that have made a difference in our communities already. Our engagement plan allows us to connect the public with city officials in order to exchange ideas and gratitude as we all create a better place for both people and pollinators.
Engagement
The Office of Urban Pollen Exchange houses our interns, a mobile "Pollinator Post" pedaled via a cargo bike, seed mailbox, and educational resources for rec centers, school groups, libraries, and public events. Coming soon: interactive neighborhood map of bee bike activities. 
Legacy
From its inception, our goal for Bee Real Bee Everywhere was to have the future in mind. That meant not only the future of pollinators, neighborhoods and people, but also of the resources and energy that go into creating large scale public art. Right away, we identified working within existing city systems would extend the longevity of the project. The Office of Urban Pollen Exchange, therefore, is generously hosted by the Saint Paul Parks Environmental Education department. The project materials were also carefully considered. Using steel and wood, the sculptural habitat is 100% recyclable, giving future generations flexibility in maintaining or reusing these resources.
We are grateful to the John S. and James L. Knight Foundation for an Arts Challenge grant that supports this project, along with the 1% for Public Art Ordinance in Saint Paul.