Downtown Walking Tour of Public Art
With PASP Executive Director Colleen Sheehy and Intern Jordan Breslau
Saturday, October 20, 10 AM – Noon
Meet at Public Art Saint Paul's office at 381 Wabasha Street N. before embarking on a wide-ranging tour of public art in downtown Saint Paul. You'll experience artworks and places that include those created with Public Art Saint Paul's involvement and others created by myriad other means, and consider what public art does for a site and a city.
Limited to 30 people who are in our Friends of Public Art Saint Paul membership group. Members can sign up by calling 651-290-0921 or emailing pasp@publicartstpaul.org to reserve a spot. Wear your walking shoes!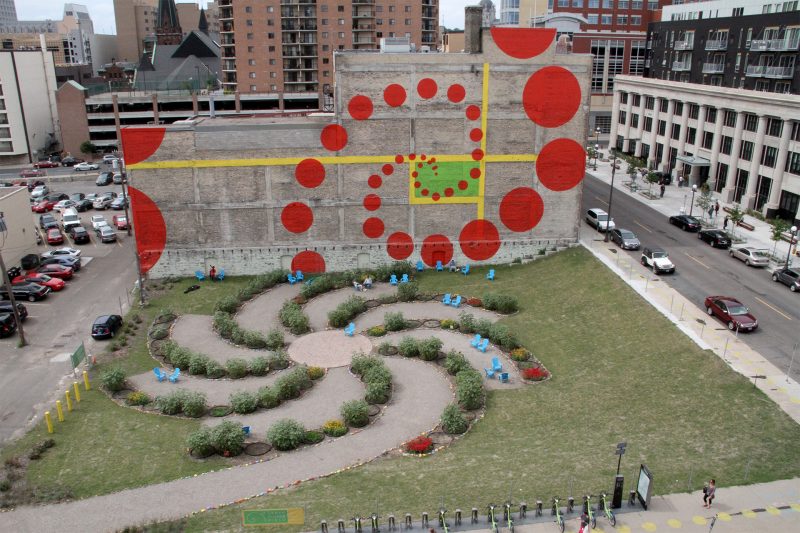 Art + Water at the New Allianz Soccer Field
A Talk with Aaron Dysart and Anna Eleria
Saturday, November 10, 1  – 2:30 PM
Public Art Saint Paul
381 Wabasha St. N., St. Paul 55102
Learn about how public art and city infrastructure connect to create a more beautiful and sustainable city. Get a behind-the-scenes view of the complex and innovative water handling infrastructure that underlies Allianz Field, the future home of Minnesota United Soccer Team, opening in spring 2019. Anna Eleria, Planning, Projects and Grants Division Manager for Capitol Region Watershed District (CRWD), will discuss their work with the City of Saint Paul and MN United to manage the storm water systems in this huge new development. City Artist Aaron Dysart will discuss his proposal for public art near the site that will make the water system poetically visible to thousands of visitors and neighborhood residents.
Limited to 45 people in our Friends of Public Art Saint Paul group. Reserve a seat at 651-290-0921 or email pasp@publicartstpaul.org.