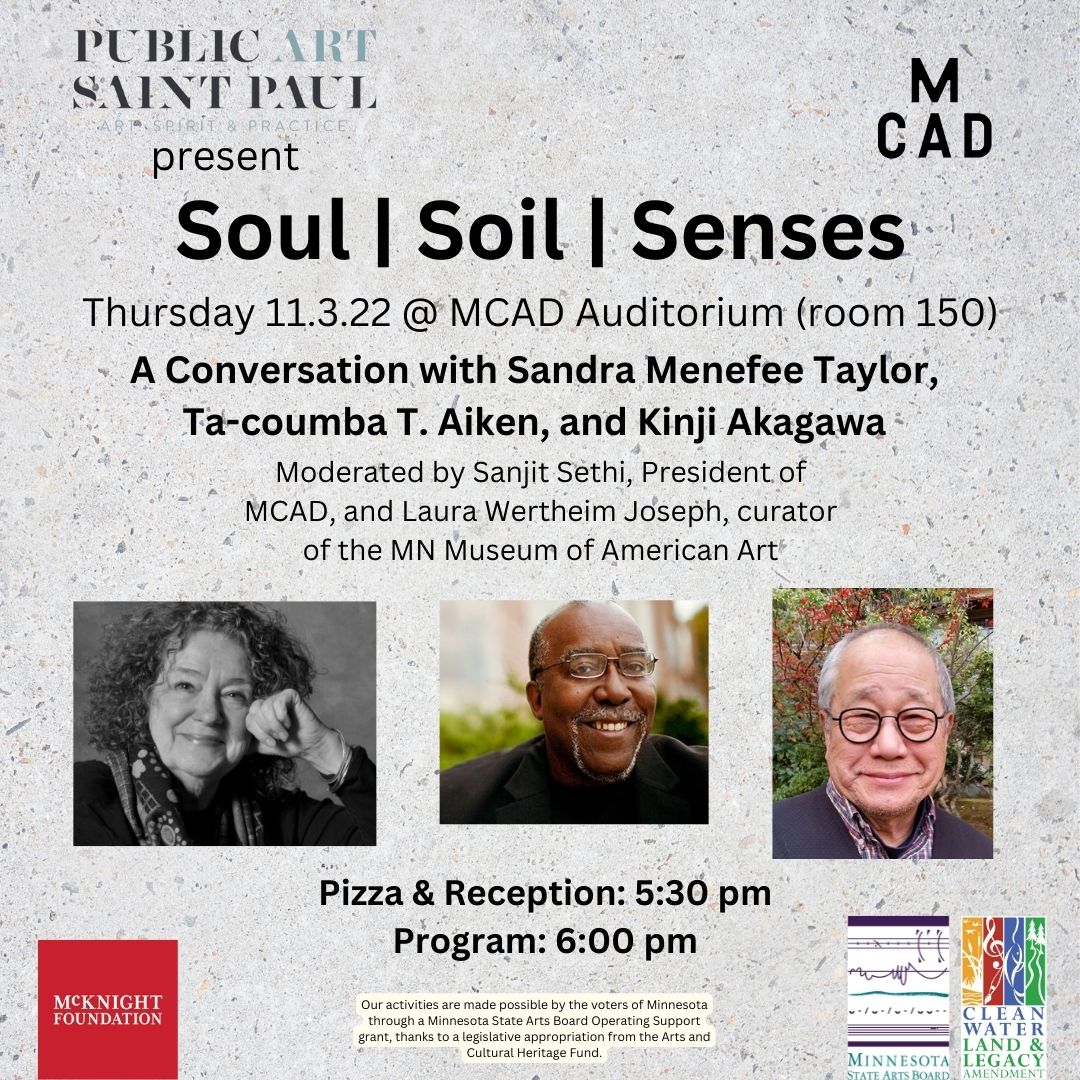 Public Art Saint Paul's Distinguished Public Artists is a FREE annual event in which leaders in the field of public art share their practice, their work, and their vision for the field of public art. Along with Public Art Saint Paul, this event will be hosted by Sanjit Sethi, President of MCAD, and Laura Wertheim Joseph, Curator of Exhibitions at MN Museum of American Art.
We are honored to be joined by Kinji Akagawa, Ta-coumba T. Aiken, and Sandra Menefee Taylor at MCAD on Thursday, November 3rd.
Watch the full program below!
Ta-coumba T. Aiken is the force behind some of Minnesota's most acclaimed public artworks. Since the early 1970s, he has created public art in collaboration with schools, neighborhood organizations, and city planning and development departments on works such as the Jax / Gillette Children's Hospital mural, the Minneapolis Central Library's fourth floor fireplace and the Good Thunder Grain Elevator North Side's Pilot City murals project. He supports the use of his artwork by organizations involved in pursuing social justice.
https://ta-coumba.com/
Sandra Menefee Taylor is a Minnesota artist who pushes the boundaries of the role of the artist and art making: building bridges between the audience and the artwork, what writer Suzi Gablik calls "connective esthetics"; She was a member of the Women's Art Registry of Minnesota (WARM), one of the first women's gallery collectives in the United States. Since then, her work is part of the growing "art in the public interest".
https://www.sandramenefeetaylor.com/
Kinji Akagawa is an American sculptor, printmaker, and arts educator best known for sculptural constructions that also serve a practical function. A pioneer in the public art movement, Akagawa has throughout his career examined the relationship between art and community, most notably the concept of art as a process of inquiry. His sculpture and public artworks are noted for their refined elegance and use of natural materials, such as granite, basalt, fieldstone, cedar, and ipe wood.
https://en.wikipedia.org/wiki/Kinji_Akagawa