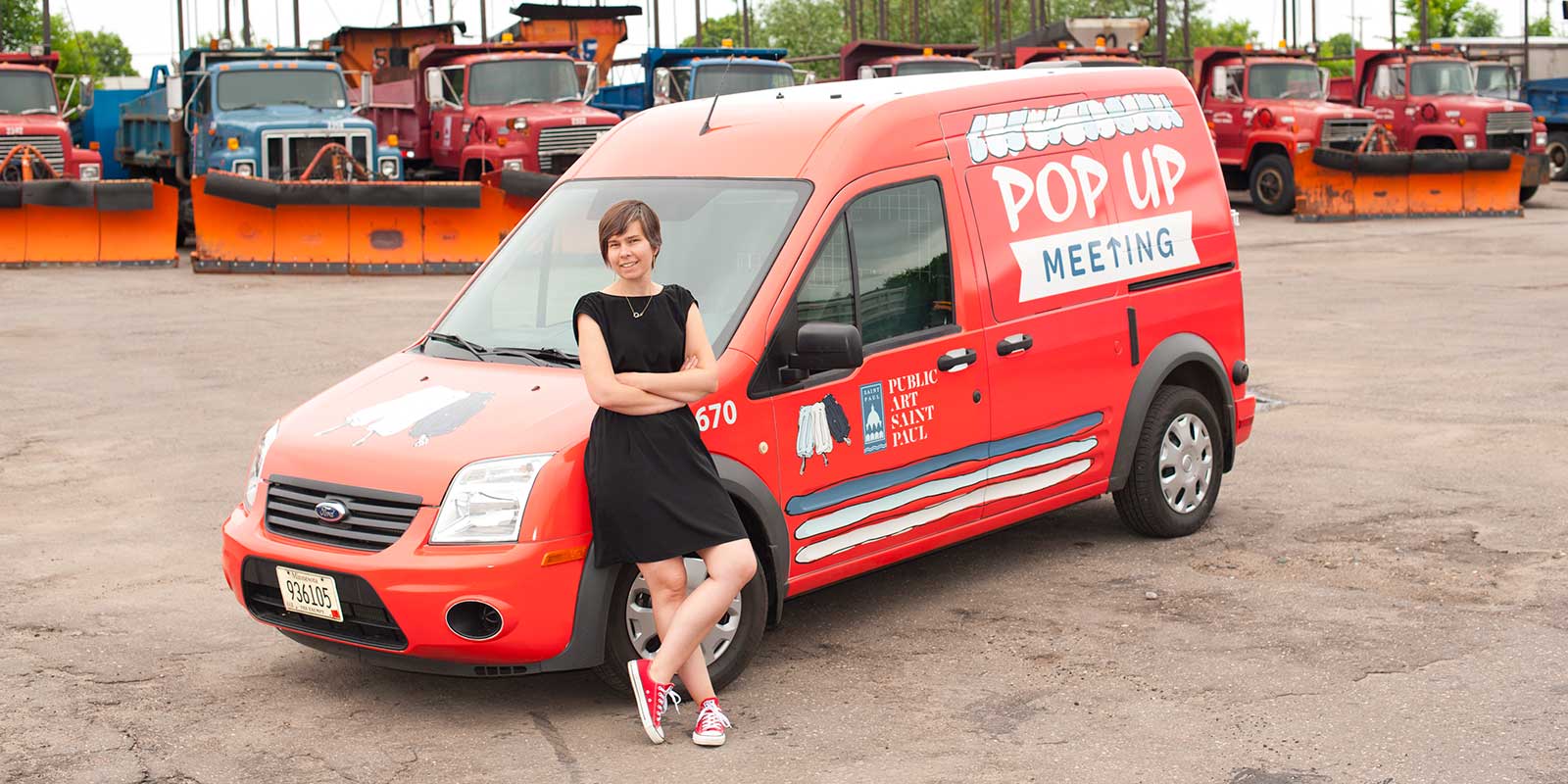 From City Artist to Parks Ambassador:
How Artists Make a Difference in Cities and Regional Agencies.
Tuesday, March 24, 5:30 pm – 7 pm
Located
at the Osborn 370 building, 4th floor. 
370 Wabasha Street N, Saint Paul, MN
(for reference, this is located across the street from our office).
Free for members, $5 for nonmembers
Popsicles, bikes, and letters. These items might seem random at first, but they all embody what makes artist Amanda Lovelee's work so impactful. Join us on Tuesday, March 24 at 5:30 pm for a casual happy hour conversation with drinks and snacks to learn more about Amanda's creative practice and how her work at PASP shapes her current work with Met Council.
Amanda takes our everyday items and repurposes them as conversation starters to engage with our communities. She strives to spark curiosity and interpersonal connectivity to involve people in developing narratives and advocacy for what we need in our physical and emotional ecosystems.
As a City Artist with PASP for five years, Amanda developed several beloved projects, from Urban Flower Field to Pop Up Meeting. She now holds the position of Parks Ambassador for Met Council's Regional Parks.
Free for members, $5 for nonmembers
——————-
*The Osborn 370 building is wheelchair accessible and located at street level. There is a ramp or stairs to the main entrance, with a rotating door as well as an automated door. Take the elevators to the 4th floor
*Near bus lines 21, 53, 54, 61, 63, 64, 70, 74, 94, 265, 275, 294, 350, 351, 364, 480, 484, 489, 860 and green line.
Our seating options are primarily stacking chairs
*There is parking available in our building, Lawson Ramp. There is also street parking. There is also parking available at 6th and Wabasha ( a half a block from this building) for a city pay lot. Also parking available in the Tria Center
If you need any further accommodations, please call 651-290-0921.