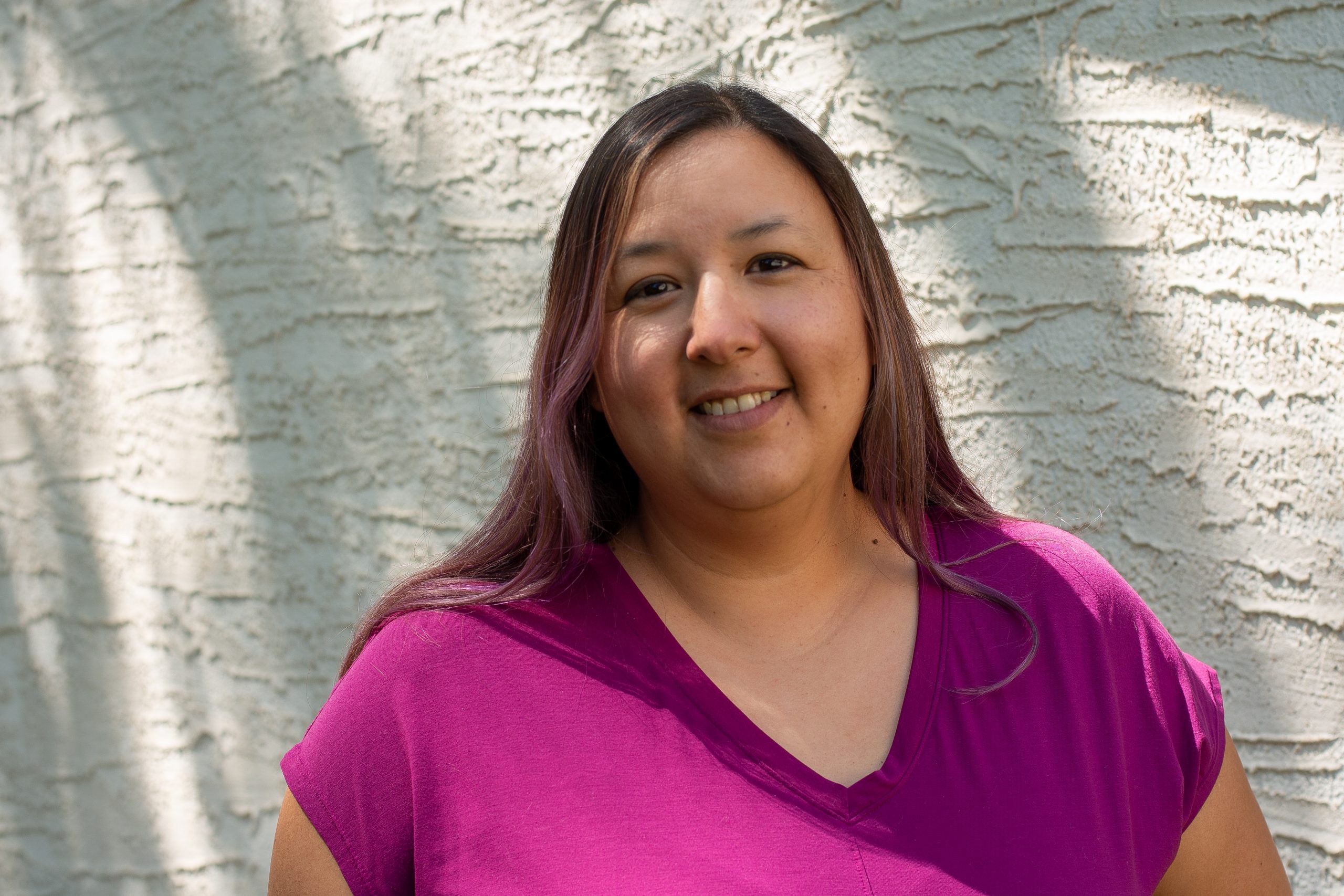 Interview with Angela Two Stars by Marianne Combs
Angela Two Stars is an enrolled member of the Sisseton Wahpeton Oyate. She moved to Minnesota from Grand Rapids, Michigan in 2017 and is the director of All My Relations Arts in Minneapolis. She describes herself as a chameleon when it comes to her artistic practice, creating in whatever medium works best. Walker Art Center commissioned her to create Okciyapi (Help Each Other), a public sculpture that incorporates recordings of fluent Dakota and Lakota speakers sharing traditional stories and wisdom. Her piece  for the Wakpa Triennial – Metamorphosis – acts as phase two of The Transition Stage (2021), a temporary community cocoon installation.
For me, being back here in Minnesota, has been a big part of my healing journey of reconnecting to my homelands. And I've really noticed how it's just strengthened my identity as a Native person and as an artist and grounded me in who I am. Understanding what my ancestors had gone through… it's almost an act of resilience that I am back home in Minnesota after my ancestors were forcibly removed. So to be able to be back on my homelands and have that healing and connection to the land – it's been a really big deal. And I think it's a testament to how important land and place is for Native people. So I'm glad that we're having this Wakpa Festival, which is a Dakota word – WAKPA. That's part of continuing to honor and acknowledge native people and our continued presence here in our homelands.
So tell me about "Metamorphosis."
This is "phase two" of a piece I started back in 2021, in partnership with Pangea World Theater and Holy Trinity Lutheran Church. They reached out to me to create an installation to commemorate and honor the Longfellow neighborhood and what they had experienced and endured after the uprisings that occurred in 2020 after the murder of George Floyd. And so I created a cocoon installation that was located on the corner of Lake Street and Minnehaha that was up for about three months in 2021. I hosted community art events where I had the neighbors write their dreams, their hopes, their mottos of strength and their laments on these strips of green vinyl, and then I wove those all into the cocoon form. So it was helping this community recover from what they had been through, and helping them look towards the future with hope and resilience. 
Phase two of that project – which is what I'm doing for the Wakpa Festival – is I've taken all of those contributions from the community, and I've digitally scanned them all. And they're being stitched together into a two-sided mural. So one side will be like a butterfly, seeing the metamorphosis, a transition from the caterpillar to the butterfly. So people will see this community that has metamorphosed into this butterfly concept, and it's made up of the community's contributions on the back. And then I'll also have some community events where I will have butterfly templates that people can design and color, and then I'll scan those and create vinyls that can adhere to the butterfly mural. So people can see this piece grow over time, with more and more butterflies, as more and more of the community comes together. People will be able to come back and "say there's my butterfly!"
Is there a cocoon element to this phase, as well? 
Yes! So I I've been working with this artist who is making the cocoon forms, because I want kids to be able to go into these little cocoon forms and then emerge as butterflies. So it's an interactive activity for children, and it just engages people on the site, drawing them into the work, and then they'll be able to walk around the path to see the mural piece itself.
That's just such a beautiful, lovely image of helping people to transform into something more positive through this very cathartic kind of ritual. How did you come up with this?
Well, with this piece being about metamorphosis, it was always considering the neighborhood and the community and how they've endured, and to give them the hope that they will overcome what happened in their neighborhood. And for me as an artist I've been on what I call a healing journey for a number of years now, reconnecting with my Dakota language, returning home to Minnesota, which is my ancestral homelands. So I've incorporated how all that healing has looked like within myself and how I've gone through this metamorphosis — from childhood to adulthood — and sharing that journey with other people, what healing looks like and what transformation looks like. 
And it's been really fun to work with the concept for this Wakpa –  this network of mutuality – and how I can work again, with Pangea World Theater and Holy Trinity Lutheran Church. We also worked with BKV Group with creating the digital renderings of my piece. And so to be able to tap back into those groups that I worked with the first time around has been really rewarding, being able to be in that good space with those people again, and the support that they provide to me as an artist is really rewarding.
So when you think about this idea of "network of mutuality," how do you feel that your piece plays into that theme?
The way I've taken it is using it as an opportunity to network with people, to be able to work with these multiple groups that I've been collaborating with, the artists that I've been reaching out to. This past year I was noticing that my work is pretty isolated – I'm alone in my studio – and yet I have a huge network of artist friends. And so I really took it upon myself to tap into that this time around, to reach out to artists, friends that I know, to run material ideas by them, to hear their thoughts on whether they think this could work, and that's not something that I typically do in my public art practice. So I'm breaking down some of those barriers that I put within my studio practice of reaching out to artists, and the wealth of knowledge of people that I know and have the privilege to work with. That's how I see how I'm creating this network of mutuality — we all get to be involved in this process. And with this project, over the course of the summer we get to engage with the community, and that's super rewarding and exciting. What might be one of my favorite experiences from the first phase was – all people had to do is write something – and some would say "I'm not an artist, but here I am getting to do something that's part of this artwork." And so it was really rewarding to see people being able to contribute to this artwork. And again with this phase people can design their own butterflies — it's a representation of who they are, their individualism. And it all becomes a part of this collective community, which is what they are.
What stands out for you about the WAKPA Triennial?
I'm really excited to be part of this inaugural art festival and I'm looking forward to seeing how it evolves over the years.  I hope it becomes an ongoing experience so that the Twin Cities can enjoy it and really uplift the art world, because there are so many fantastic artists here and in the Twin Cities and in Minnesota.
In Grand Rapids they have a huge art competition every fall called ArtPrize, that is a huge open art competition, and to see what it did to the economics of downtown – it activated the community so much! I could see the Wakpa Festival being a similar concept, having so much art available for people, to just be able to be out and engage throughout the summer with all different types of art and artists and performances. I think it really uplifts artists, because the pandemic really impacted artists, so being able to showcase how we're still creating, still adapting and evolving.
What do you want people to take away from encountering this piece?
I'm hoping that kids will be running around in the space, going into little cocoon forms and having parents take their pictures, or kids thinking "I'm a butterfly!" and emerging from these cocoons, and for people to be able to come and just experience connection and joy. I think that's something that art does for people – pausing life, and all the "to-do's" on your on your daily list of obligations. And just to appreciate some beauty and, and fun and excitement and, and just sharing that with whoever you're with. I think one of my favorite things from the first Transition Stage was, it was just a space for people to be in community together. And I'm looking forward to having people that contributed to the first phase come back and find the writing that they contributed, because all of those are so meaningful and heartwarming. And for me to be able to have the intimate alone time with those works that people contributed, the vulnerability they shared — to be able to include that in this work and create a piece of beauty out of what this community had gone through –  I think is a testament to their resilience and growth and transformation.
Marianne Combs is an award-winning broadcast journalist, producer and writer with more than 25 years of arts and culture reporting experience. You can find her work on National Public Radio, in podcasts and in national magazines. She was named 2020 Journalist of the Year by the Minnesota chapter of the Society of Professional Journalists. She has earned multiple awards for her investigative work and currently serves as News Director for the Center for Broadcast Journalism in St. Paul.