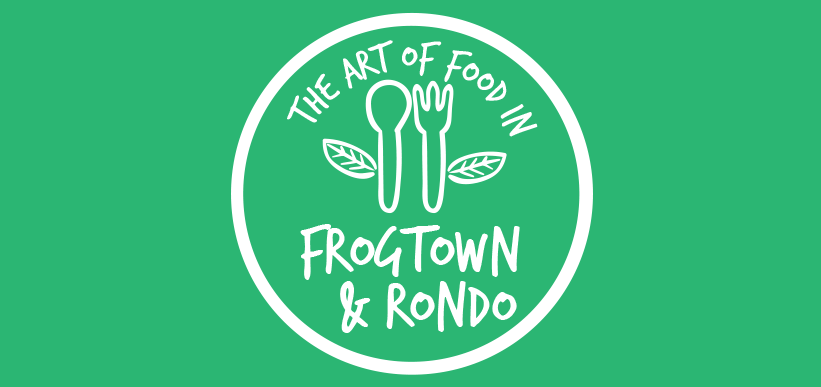 Public art today addresses many societal issues, and many artists regard community engagement activities—getting people together to talk and share their ideas, form new relationships, and build community—as a contemporary public art form. This is certainly the case with Public Art Saint Paul's work with The Art of Food in Frogtown and Rondo, a collaborative project launched in 2016 with support from the Kresge Foundation's Fresh, Local & Equitable grant program. This unique funding opportunity brings together arts, culture, and creative placemaking with fresh food and food business development in low-income neighborhoods.
PASP collaborated with Asian Economic Development Association, Frogtown Farm, Twin Cities Agricultural Land Trust, and Urban Farm and Garden Alliance to develop a food plan for Frogtown and Rondo that emphasized community input about their needs and existing food assets. In this new phase, we continue to work together to build food knowledge and networks, with an emphasis on developing a Community Food Center at Frogtown Farm.
This summer, Public Art Saint Paul debuted our new "Street Food Pop Up" engagement experience at festivals and markets in Frogtown and Rondo neighborhoods Our two Neighborhood Engagement Assistants—Cassie Rogers and Brita Light—ride two bikes—one pulling a wagon with art and garden supplies—and share information, artmaking, and beverage and food samples with people, helping them to learn more about produce markets and community gardens. Everyone is sharing their favorite recipes, with the goal of a neighborhood cookbook being produced.
You may see Cassie and Brita at neighborhood festivals, including the Saturday markets at Frogtown Farm, into the October harvest season. Frogtown Farm is accessed at either 941 Lafond Ave or 946 Minnehaha Ave W. St. Paul, 55104; info@frogtownfarm.org; www.frogrownfarm.org
The Art of Food is also supported by The Saint Paul, Mardag, and Bigelow Foundations and the MAHADH Fund of the HRK Foundation.
 .