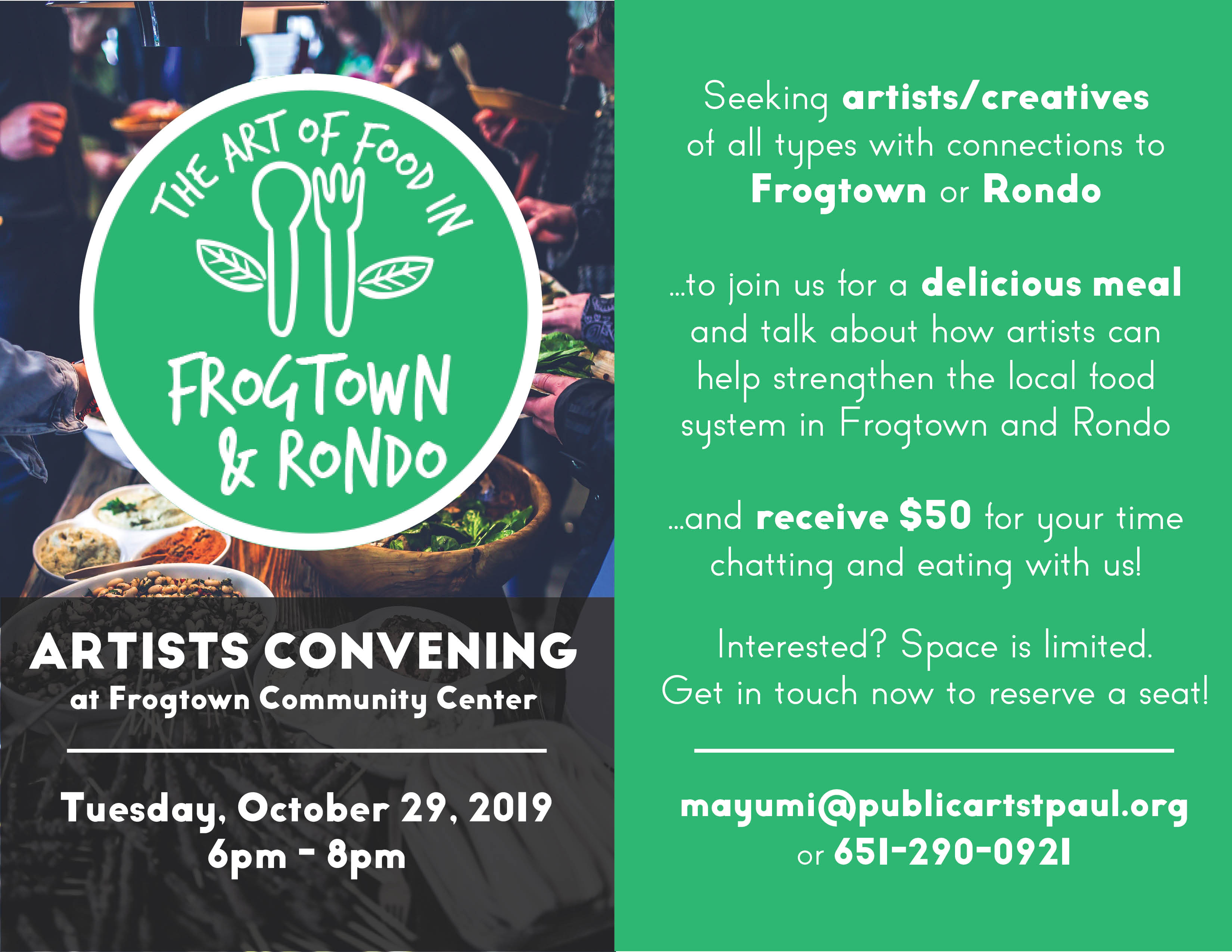 Tuesday, October 29th, 2019
Frogtown Community Center
Located at 230 Como Avenue, Saint Paul MN 55103
From 6 pm to 8 pm
The Art of Food in Frogtown & Rondo, a coalition that Public Art Saint Paul is a part of and whose mission is to creatively cultivate the development of a strong community food system, will be hosting an artist convening later this month!
We believe artists are an essential part of creating a vibrant healthy community. Thus, through this planning conversation, we are interested in learning from you as artists about how and where art can play a role in helping strengthen the local food system. We will convene in a large group and small group discussions. This feedback will then be implemented into the planning of the Art of Food Coalition in Frogtown and Rondo. It could potentially lead to future projects.
We are looking to identify and invite up to 25 artists/creatives of all types who live, work, or have any meaningful connection with the Frogtown or Rondo community to join us for a brainstorming conversation over a delicious meal prepared by Community Chef Peter Vang.
Each participating artist will receive $50 for their time at this convening.
To reserve a seat, please contact Mayumi Park at mayumi@publlicartstpaul.org or 651-290-0921.
In your email please identify a very brief statement of your artist practice and your ties to Rondo or Frogtown (live, work, play+).
Space is very limited, so reach out now!
Please share this with your network of creatives who have ties to the Frogtown or Rondo community!
———–
Accessibility information:
Frogtown Community Center is wheelchair accessible.
The convening will be held on the first floor, no steps are needed to enter the building or the room.
Only chairs and tables are in the room.
Frogtown Community Center is located near transit lines 3, 67, and 10 minutes walking from Rice Street Green Line station.
We will be using large group and small group discussions as well as other brainstorming strategies.
Please email mayumi@publicartstpaul.org with any questions or needs.
Want to learn more about the Art of Food Coalition,

click here!