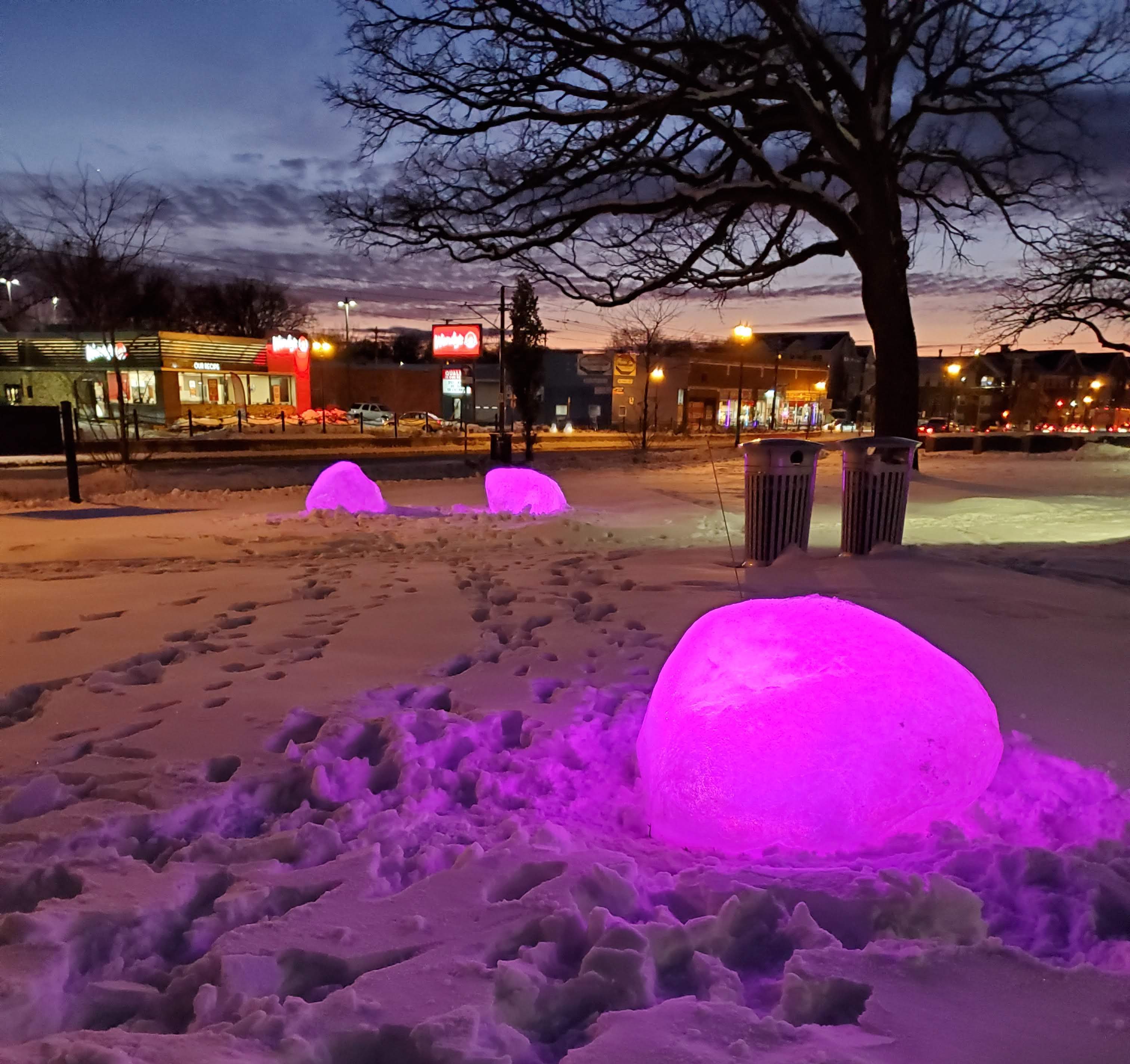 "Comforting Climate" new public art by Aaron Dysart and Amanda Lovelee
written by Aaron Dysart, City Artist of Public Art Saint Paul
Comforting Climate was installed at Dickerman Park in the fall of 2019. Located on the north side of University Avenue between Fairview and Aldine, this park was donated to the City of St. Paul 110 years ago. This narrow stretch of land with its towering white and burr oak trees now sits in front of a YMCA in a dense urban area, next to multiple forms of transit. In 2017, the first phase of construction of the renovated park was completed with new walking paths, plenty of seating, and native plantings that highlight the iconic oak trees. The City's Department of Parks also commissioned the City Artist team of Aaron Dysart and Amanda Lovelee (who was a City Artist at that time) to create an artwork that would help celebrate this often-overlooked space.
When Aaron and Amanda spent a few afternoons in the park to understand the space, they were overwhelmed by all the disparate forms of motion. Cars were continuously whizzing by on University Avenue, people ran to the nearby Green Line stop, while children were playing catch in the park. Throughout it all, the giant oaks stood quietly rustling in the breeze, offering shade and solace to anyone and everyone, in any weather.  Here amongst all the commotion the artists felt that any new artwork placed in this space should emulate the majestic oaks – the new artwork should quietly give people what they need.
To do this, the artists selected three large glacial boulders and had them cast in translucent fiberglass and worked with local technicians to allow the new objects to react to their environment. Placed in a grouping in front of the YMCA, these ghostly objects recall what came before all the dense urban development during the day. At dusk, the molded rocks come alive with light, reacting to the environment around them. When it's hot out, the rocks gently breathe in a cool color. During cold St. Paul winters, they will softly breathe warm colors. The artwork thus both defines and reacts to the environment —just like the towering oaks of Dickerman Park, offering solace in a bustling setting.