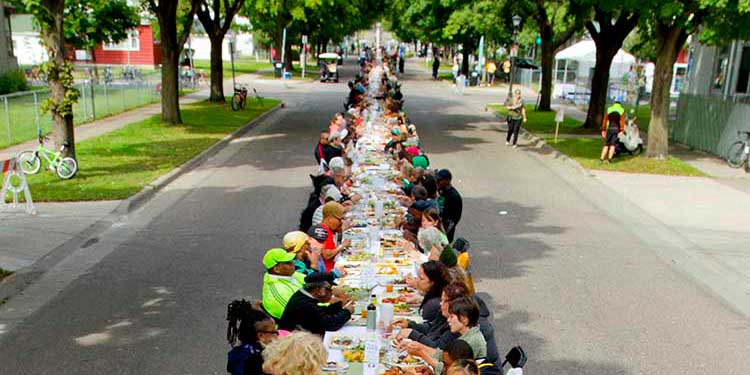 Post by CREATE Artist Seitu Jones
With today's beautiful sunrise over St. Paul, I reflect on this date and time last year and remember how beautiful the sunrise was last year on September 14. I also remember how I felt as I began that day after spending two years developing, CREATE: The Community Meal, a meal for 2000 people at a table ½ mile long.  I was a nervous wreck on this day and at this time last year, filled with anxiety and worry about 2000 different things. . . Will it rain? Will it be too windy? Will the food arrive on time? Will all or any volunteers show up? Will all of the table and chairs be there? Who did I forget to invite????
Well, it didn't rain. It wasn't windy, and it was a gorgeous day. The food was not only on time but also was warm and delicious. All 430 volunteers were present and engaging. We spent an hour straightening the ½ mile table and chairs. And everyone that was supposed to be there, was there. It was truly a great day for St. Paul, in general, and our neighborhoods specifically. It was a day to build community with an over-the-table conversation.
Over this past year, I've received comments from neighbors and friends about the meal and what it meant for the neighborhood. Public Art Saint Paul and I worked hard to make the event truly memorable, and many comments were based upon the pleasant memories of sharing a meal and conversation. It was my goal and the goal of Public Art Saint Paul to draw people into an experience of how art can draw people together, create conversation and community, and connect across backyard fences. One of the comments I've been hearing over this last year was just about the fact that it happened and happened in our neighborhood on Victoria Street. There were many who were just impressed that we were able to close the street. While small, it was a demonstration of power that we all have to make something happen.
Over this last year, I've spoken around the U.S. to almost 2000 other folks about the meal and its power to change. I've extended the vision of CREATE by helping build Frogtown Farm, a new 5-acre farm and park, which will create much-needed growing and green space.  Groups like Stones Throw Urban Farms are converting vacant plots of land in Frogtown into urban gardens. Produce grown in Stones Throw's gardens is then sold through a Community Supported Agriculture program and a farmers market. Local restaurants are purchasing the food as well. The Minnesota Food Association is training Minnesotans to grow their own food and to create a socially just, sustainable food system. The Hmong American Farmers Association serves, supports and organizes farmers to expand and improve farm operations and connect the Twin Cities with fresh local food.
Over this last year, I've had requests from across the country and outside of the country to assist in creating other meals like CREATE: The Community Meal, but I tell folks often that it is all about harnessing your local resources to build community.
Now, we are building upon our experiences 2013-14 to help people to that in their own communities & neighborhoods. We are expanding dinners hosted by citizens for their neighbors. Coordinated by our Community Organizer Melvin Giles, 12 hosts will be identified/recruited and provided with a CREATE kit to host meals in their homes in Frogtown. In fact, we are gathering today to assemble 50 boxes for the CREATE: The Neighborhood Meal Kits. Thought of as a series of 50 artworks, the CREATE Kits will hold the elements of artful gathering: the CREATE grace and closing by G. E. Patterson and Soyini Guyton; recipe suggestions; my prompt questions for storytelling at the meal; my prompts for food resolutions; a set of handmade paper placemats; food resource maps; and zero waste guidelines.  This work is not just a local resource but also a national resource to support and share the work in other cities that will build upon our model. The CREATE Kit is a work of art in itself that I will use as I talk about the meal.
The Community Meal, like all meals we share, is the culmination of many hours, many hands, and many hearts. It would not be possible without an incredible team of producers, artists, community organizers, farmers, chefs, friends, neighbors, and family.
The sun is now up and today's weather will hopefully be as glorious as last year was. This evening as I share a meal, I will read the Grace created by GE Patterson; maybe use the recipe for Collard Greens created by Chef James Baker; share food stories and pledge to continue to work toward food justice. Sitting across from each other, we can revel in our similarities and recognize the beauty in our differences.