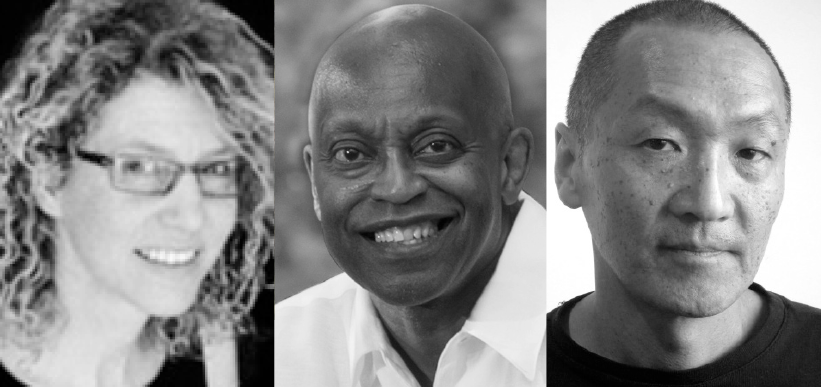 Lets Talk: Creating Through Dialogue's
Reflection on the Public Art Saint Paul Distinguished Public Artist Program
By Jordy Breslau
PASP staff member
On October 16, 2018, people of the Twin Cities gathered at the Summit Brewery's Ratskeller Hall for an evening committed to celebrating our creative change-makers. The informal setting created a warm and welcoming environment, where everyone could feel comfortable. Once attendees grabbed some local brew, they began a journey of curiously exploring the multitude of experiences for the evening.
As people arrived, artist Seitu Jones greeted them outside on the terrace as he baked fresh cheese-beer biscuits in a skillet on the grill (with beer from Summit Brewery, of course). He invited visitors to enjoy a traditional African-American and Southern food that has sentimental and historical meaning for many. 
Walking a little further, folks indulged on a beautiful spread of food from local chefs Lachelle Cunningham of Breaking Bread Café and Austin Barthold of Gatherings Café.  Each culinary expert brought local ingredients to create soul food and Native recipes including dishes like coconut cornbread, collard greens, wild boar crostini, and wild rice stuffed mushrooms.
After feeling completely nourished, Wing Young Huie awaited your presence. Wing asks participants to write reflections on a multitude of questions like "What does public art mean to you?" or "What has life brought you?" and then takes photos of each participant with their written response, as together they create a story within an image.
Christine Baeumler and Rachel Nichols invited visitors to take seed samples to grow a bee friendly garden as an introduction to then engage participants in a broader discussion of bee habitats and environmental preservation. The seed dispenser is part of Baumler's project with PASP, Bee Real Bee Everywhere.
Experiencing these micro-versions of each artist's practice was a perfect transition to the grander paneled discussion that dissected what is public art and why does it matter? At 7 pm, it was time for the conversation to begin. I stood at the back of a restless crowd, ready to hear four creative city leaders speak about their practice as artists, listeners, community builders, and city visionaries. At the front of the room, sat artists Christine Baeumler, Seitu Jones, Wing Young Huie, and the evening's moderator, scholar and executive director of Public Art Saint Paul, Colleen Sheehy. These four civic leaders have varying loci, but all strive to unite collective strength in order to build community.
The discussion first began with a grounding ceremony led by Native American artist, activist, and youth educator Ernie Whiteman, who centered us in the space as he reminded us of the native history of the Summit Brewery site with its proximity to the sacred Mississippi River and our privilege in gathering on conquered land.
Christine Baeumler's practice, with an interdisciplinary background in ecology and art, aims to preserve our landscapes by creating environments that nurture and preserve ecosystems. By calling together Native elders and community members, Baeumler facilitates dialogue around preservation of habitats through open listening sessions in projects like Backyard Phenology.
Seitu Jones work is filled with layers of complexity, as his work is a reflection of his own identity as a Black activist and a resident of the Rondo neighborhood. Jones often focuses on expanding food systems and accessibility, as in his major project with PASP, CREATE: The Community Meal. Like Baeumler, Jones relies on creating dialogue to celebrate food cultures and re-envision a greater, more holistic, accessible and just food system. 
Having been trained "as a reporter," Wing Young Huie uses photography to raise poignant questions about community and identity. In one of his most iconic major works, The University Avenue Project (created with PASP), Huie asks strangers questions about their day, their neighborhood, their place and then they pose with a chalkboard response. Wing uses both dialogue and image to untangle or tangle further, the intricacies of our sense of self and place and the politics around it.
While these artists vary in practice, I perceived three tenants that Beaumler, Jones, and Huie all embody and that are testaments to their strengths.
Listening – All three artists approach their practice with a level of humility and openness, allowing their projects to grow with a similar fluidity. The more they listen and investigate, the more deeply they understand the needs of the community.
Patience – None of these artists came to their success quickly. Their careers, projects, and relationship building take time. The beauty of their work is within the layers of detail upon detail.
Collaboration – All three artists depend on their community. They step back and rely on collaborators of all kinds—youth, artists, city planners, and residents— to thrive and share their strengths.

I give many thanks Christine Baeumler, Wing Young Huie, Seitu Jones, and Colleen Sheehy for sharing with us your vision of a new world made possible by public art.
What Is Public Art Today and Why Does It Matter?
A Conversation with Christine Baeumler,
Seitu Jones, and Wing Young Huie
Moderated by PASP Executive
Director Colleen Sheehy
Tuesday, October 16
Reception and art activities: 5:30 – 7:00 PM
Program: 7:00 – 8:30 PM
Summit Brewery Ratskeller Hall
910 Montreal Circle, Saint Paul, MN 55102
Our Distinguished Public Artist event this year features a lively conversation among three exemplary public artists, rooted in the Twin Cities but with both local and global perspectives. Christine Baeumler, Seitu Jones, and Wing Young Huie have been at the forefront of re-inventing public art, working on civic engagement, social and environmental issues, and large-scale projects that represent a new sense of "the monumental." All three have done major projects with Public Art Saint Paul.
Christine Baeumler is an environmental artist, activist, advocate for racial equity, and visionary for the rights of non-human species. Her work engages with the "ecosocial" to make direct impact on natural and social systems. She is a lead artist on Bee Real Bee Everywhere, a Public Art Saint Paul project to sustain bee populations, and works as Artist-in-Residence in the Capitol Region Watershed District. Chris is Associate Professor of Art at the University of Minnesota, where she helped to establish its Interdisciplinary Art and Social Practice area.
Seitu Jones is a multidisciplinary artist whose work spans such diverse activities and interests as boat building and ecology; tree planting and social justice; farming and bread baking. In 2014, he presented, with Public Art Saint Paul, CREATE: The Community Meal, a dinner for 2,000, seated at a 6-block-long table in the Frogtown neighborhood. He was named 2017 McKnight Distinguished Artist and received the 2017 Juror's Award at ArtPrize. He is co-founder of Frogtown Farm, a 5.5-acre organic farm in the heart of Saint Paul.
Wing Young Huie is a celebrated photographer, teacher, mentor, and cultural convener. For more than 30 years, Wing has captured the complex cultural realities of American society. He has done public art exhibitions that transform city streets into galleries, including The University Avenue Project with Public Art Saint Paul. Since 2011, he has operated The Third Place Gallery, where guest artists and the public engage in conversation, karaoke, and ping pong. Recently, the McKnight Foundation announced Wing as their 2018 Distinguished Artist.
The reception includes opportunities to participate in the artists' public artworks and to enjoy music by Jarelle Barton on the Chinese guzheng, and complimentary food and non-alcoholic beverages by local caterers. Summit brews are available for purchase.
Program is free and open to all ages. Must be 21 years old and have valid I.D. to be served beer.  PASP Members can RSVP to pasp@publicartstpaul.org for a reserved seat.