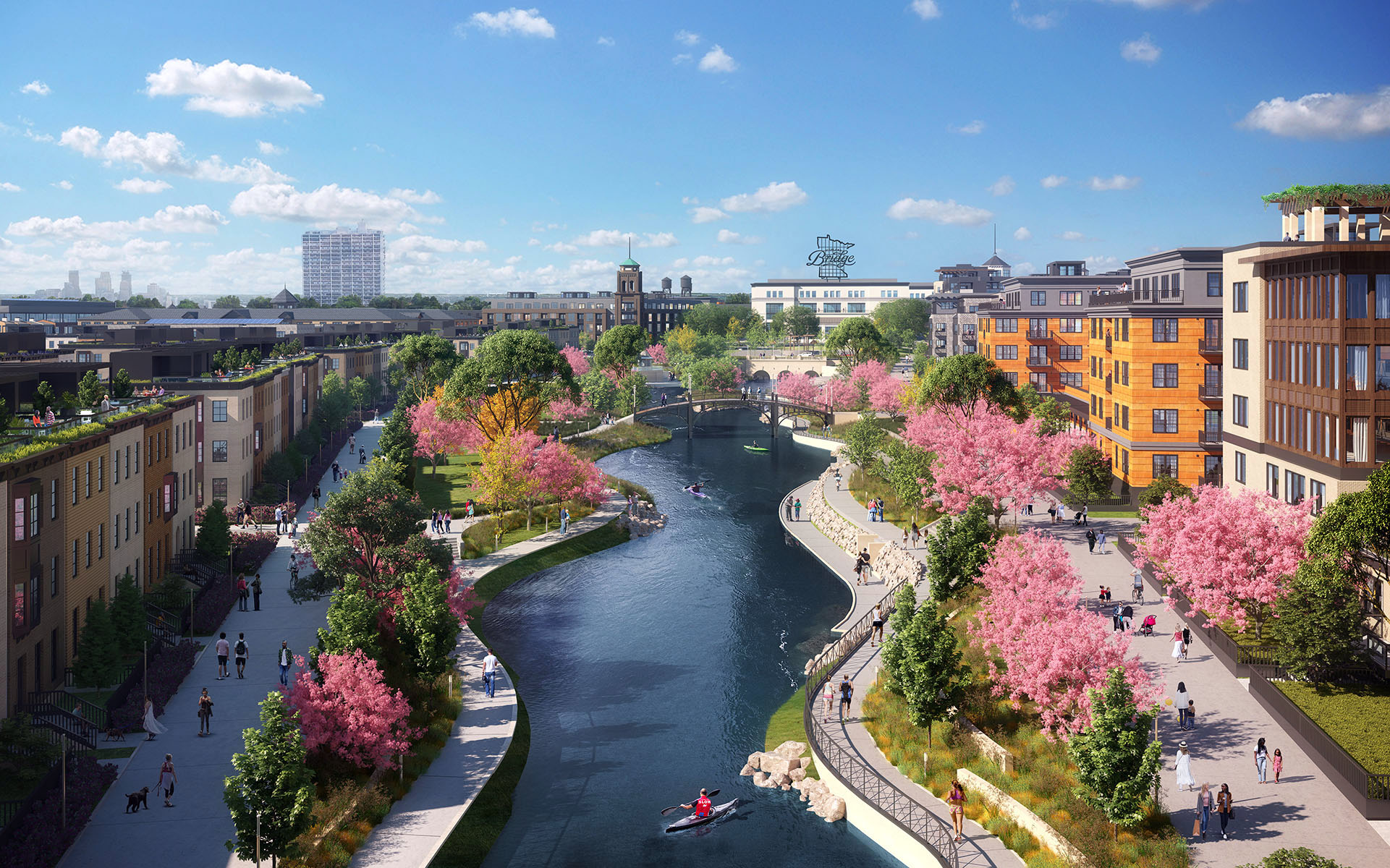 Finalists Announced for Public Art at Highland Bridge
We are excited to announce the 4 finalists for the public art commission at Highland Bridge. After reviewing 171 Request for Qualification applications for this project, the Highland Bridge Artist Selection Committee chose the following artists from a national pool of applicants:
Roberto Biaggi, artist/designer, San Juan, Puerto Rico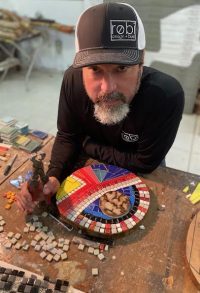 Roberto Biaggi is a versatile Puerto Rican artist, dedicated to design architecture, art direction, scenography, paintings, furniture design and film. He works with Cero Design & Build mosaics on many public projects. Biaggi began his studies in Architecture at Washington University in St. Louis in 1991, where he also studied drawing and painting. As part of a program of the Southern California Institute of Architecture during his Master of Architecture, he studied in Switzerland.
From Cero Design & Build website:
We are in the business of creating specific dreams through the marvels of mosaics. We combine in our work design, artistic painting, and architecture in order to present a theme through imagination and color. We are very enthusiastic because we can offer the flexibility of our work to public areas so that they can represent the true personality that can be achieved through open areas, large walls, parks, and public and private buildings. Likewise, our creations offer a unique product to the art lover through a highly creative color composition. We design mosaics for recreational areas, private gardens, private spaces, facades, and floors of any dimension.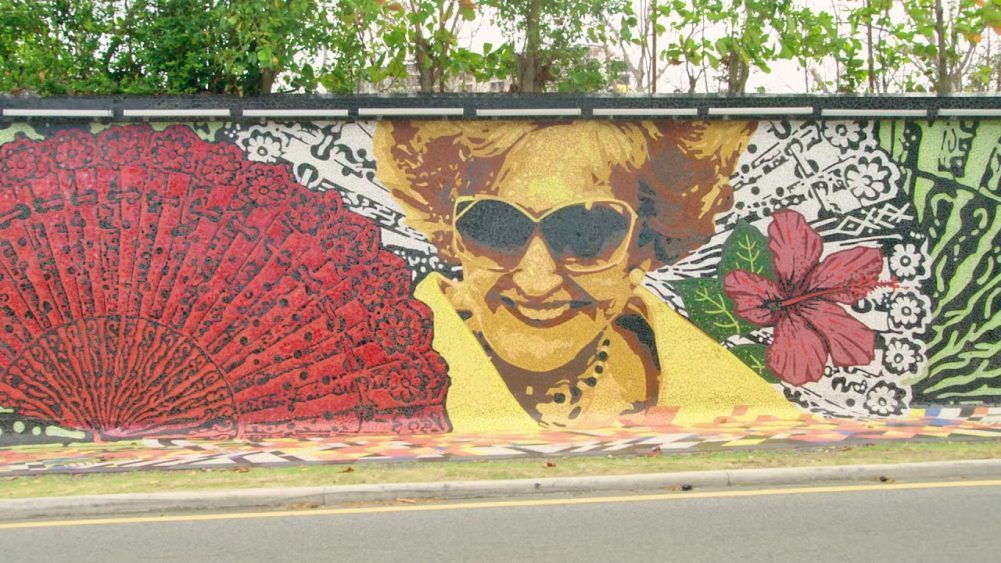 Roberto Biaggi, Cero Design & Build Infinite Remembrance of Fela  |  ceramic tile mosaic  |  20' x 200' x 1/4″  |  2012  |
Tribute to Mrs. Felisa Rincon de Gautier, the first woman mayor of the City of San Juan  |  Location: San Juan, Puerto Rico
Adam Buente at Project One Studio, Indianapolis, IN.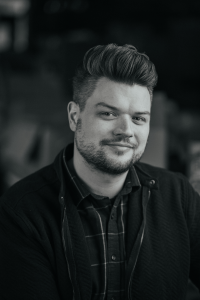 From their website:
Project One Studio explores the possibilities of connection through new technology, materiality, and the human environment. We are artists, designers, and fabricators committed to craft, experience, and authenticity. We use innovative, often intricate systems to guide pattern development, construction techniques, and texture building. As public artists, we collaborate nationally with architects, landscape architects, engineers, municipalities, and consultants to activate public and private spaces in ways that excite curiosity, welcome play, and delight the imagination.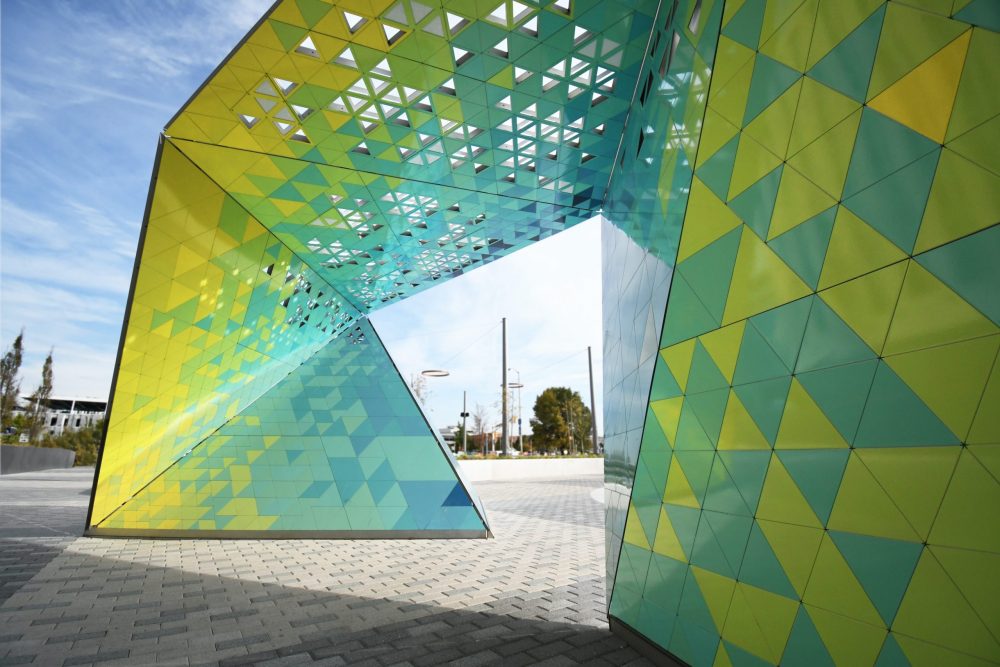 Adam Buente, Project One Studio Alloy  |  painted aluminum, stainless steel  |  10' x 17' x 30'  |  2018  |  Location: Lugar Plaza
at the City County Building, Indianapolis  |  Photo by Project One Studio
Jason Klimoski and Leslie Chang, STUDIOKCA, Brooklyn, NY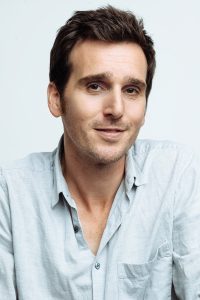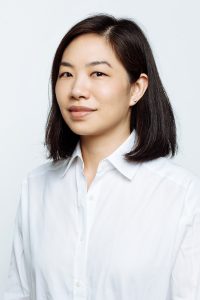 STUDIOKCA explores the ways in which context and locality offer opportunities to design and create objects and spaces that respond directly to the demands of their programs and site-specific environmental conditions. With each project, we are interested in how materials can be crafted or purposed to solve a problem, shape a narrative, create a sense of place, and offer a unique solution that resonates with our clients and their sites.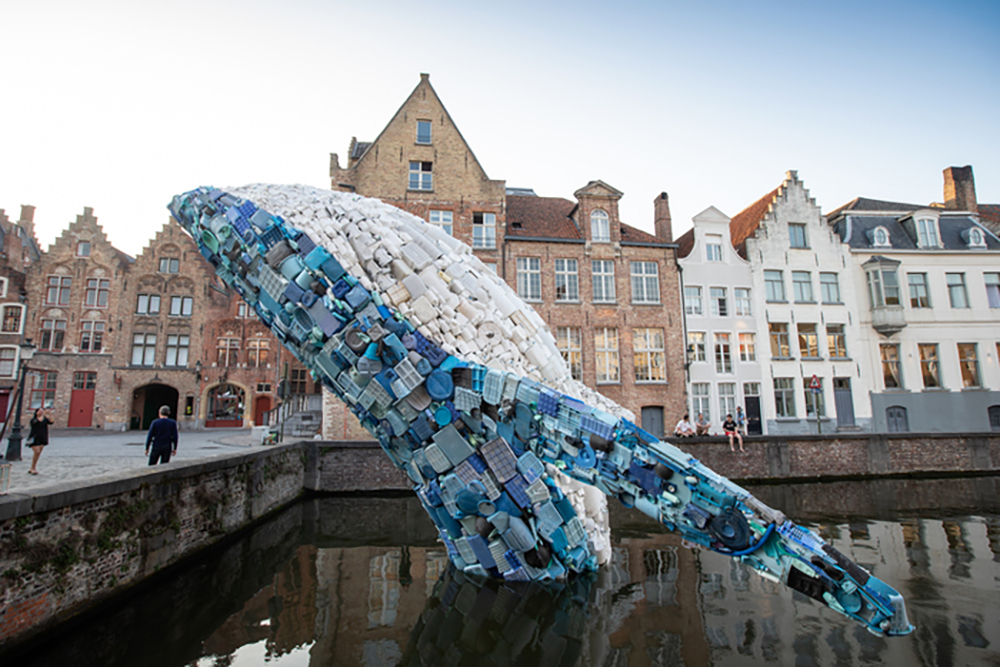 Jason Klimoski and Lesley Chang, StudioKCA Skyscraper (The Bruges Whale)  |  steel, aluminum, ocean plastic  |  38' x 29.5' x 13'  |
2018  |  Location: Jan Van Eyck Square, Bruges, Belgium  |  Photo by Matthias Desmet
Marlena Myles and Rory Wakemup, St. Paul, MN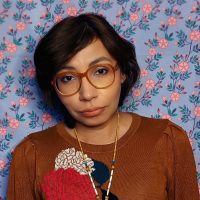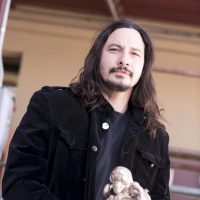 These two St. Paul-based artists are a team for the public art proposal at Highland Bridge.
Marlena Myles is a multi-disciplinary artist who combines tradition with technology to create art across many platforms and media.
From her website: 
Marlena Myles is a self-taught Native American (Spirit Lake Dakota) artist who has gained recognition as one of the few Dakota women creating digital art including fabric patterns, animations and illustrations to bring modernity to indigenous history, languages and oral traditions. Growing up on her traditional Dakota homelands here in the Twin Cities, she enjoys using her artwork to teach Minnesotans of all backgrounds the indigenous history of this place we call home. Her professional work includes children's books, fabrics, animations, and fine art presented at the Minneapolis Institute of Art, The Museum of Russian Art, Red Cloud Heritage Center, and the Minnesota Museum of American Art, to name a few. In 2021, she opened her own Dakota publishing company called Wíyouŋkihipi (We Are Capable) Productions to create a platform that educates and honors the culture, language and history of Dakota people.
Rory Wakemup is a multidisciplinary artist who works in sculpture, installation, glass, lighting, photography, printmaking, public art, and traditional Indigenous arts. He holds an M.A. and M.F.A. in Glass/Sculpture from University of Wisconsin-Madison and a B.F.A. in Sculpture from the Institute of American Indian Arts in Santa Fe, NM. He has been awarded public art commissions and residencies as well as fellowships from the McKnight and Jerome Foundations. Wakemup works on Indigenous issues with a range of organizations and is former Arts Director at All My Relations Gallery in Minneapolis.

Marlena Myles, Protecting the Generations (Close Up)  |  Vinyl on window  |  10' x 30' x 1″  |  2021  |  Location: Skyway,
Minneapolis Public Service Building  |  Photo by the artist
Rory Wakemup Peda, (Ceremony Fire)  |  neon, glass, wood  |  10' x 6' x 6'  |  2017  |  Location: Augsburg College, Minneapolis
These artists have been invited to develop a specific proposal for the Highland Bridge development. One commission will be awarded to one of the finalists.The Highland Bridge Artist Selection Committee includes Ellen Stewart, St. Paul Parks; Maureen Michalski, Ryan Companies; and community members Jill Gebhardt, Erin Heelan, Katie Howie, Filsan Ibrahim, and Cyrstal Norcross.
Highland Bridge is a 122-acre area undergoing construction with Ryan Companies as the lead developer with an entire urban village being constructed on the site of the former Ford Motor Company truck factory. Highland Bridge will be a mixed-use development with a variety of housing types along with business, retail, and parks.
Public Art Saint Paul is managing the public art process for Highland Bridge for the City of St. Paul.