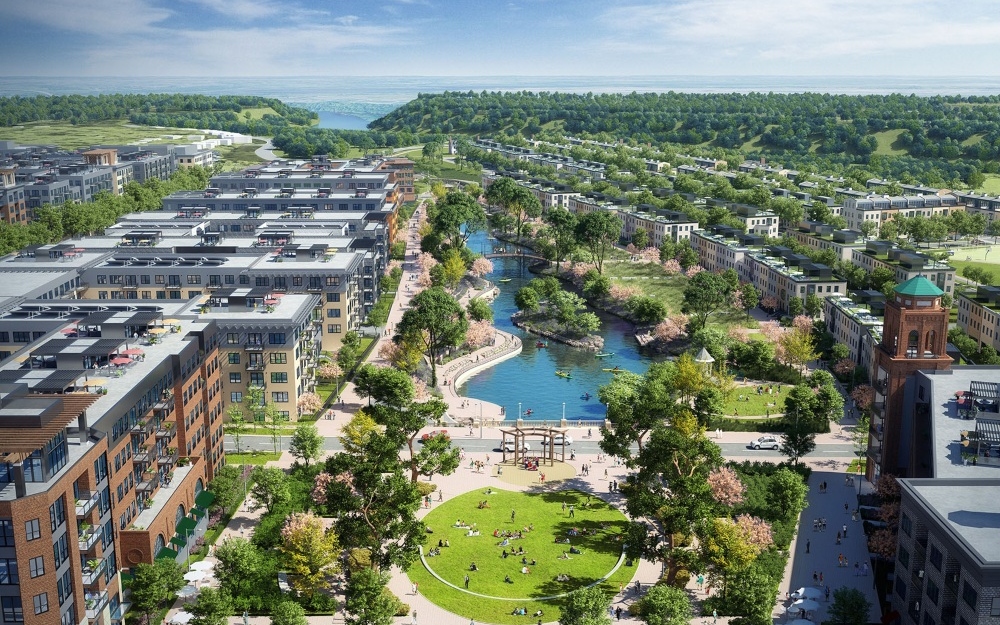 ABOUT
Planned to be an inclusive, forward-looking 21st-century urban village, HighlandBridge is the new name for a 135-acre area in the southwest section of the City of Saint Paul, located along the Mississippi River. This new development is being built on the former Ford Site, the former home of Ford Motor Companies' Twin Cities Assembly Plant. The City of Saint Paul and multiple partners spent a decade engaging with the community, studying environmental impacts, and approving a final plan for the site's redevelopment. Ryan Companies, as master developer of the site, is charged with executing the City's plan of a new connected, livable, mixed-use neighborhood with clean technologies and high-quality design for energy, buildings, and infrastructure. Highland Bridge will be woven into the existing community; support walking, biking, and transit; and provide services, jobs, and activities that every generation can enjoy. Four City parks are planned for this development.
Public Art Saint Paul is managing the artist selection and art fabrication processes for this public art-ordinance-funded project for the City of Saint Paul.
The Artist Selection Committee will review Request for Qualifications submitted by artists and select finalists, who will be asked to develop a specific design proposal. The committee will then select the artist or artist team to be awarded the commission for this public art project. The commission has a $150,000 budget—inclusive of design development, fabrication, installation, and other requirements.
---
Highland Bridge Artist Selection Committee Members Bios
Jill Gebhardt, a long-time resident of Highland Park, believes in the role of art in making better places and people. She believes that public art can contribute to the common good and celebrate diversity. Jill is a board member of Friends of Highland Arts, has been co-manager of Highland Fest, and a juror for the Art Fair. She has worked in administrative and leadership positions at the Walker Art Center, Century College Art Gallery, White Bear Center for the Arts, and in the Department of Art at Macalester College. She currently is assistant director for donor relations at Macalester. Jill is strongly committed to advancing diversity, equity, and inclusion, to building her cultural competencies, and to recognizing the impact of her white privilege.
Katie Howie is a 5th generation Saint Paul-ite who has lived in many neighborhoods in the city, growing up in the Snelling-Hamline area and currently residing with her family in Highland Park. Primarily a photographer, Katie recently initiated a public art project called By A Thread :: Pandemic Portraits that involved community engagement in the West Side, East Side, Old Rondo, Frogtown, and Phalen neighborhoods.
Filsan Ibrahim is an environmental specialist for Ramsey County. She worked for several years as a community outreach coordinator for the Wilder Foundation. Filsan is skilled in public speaking, leadership, and social media. She earned a Bachelor's degree in Environmental Studies from Augsburg University. Filsan is also a spoken word poet who has performed and worked with several art organizations. She lives in the Hamline-Midway neighborhood of St. Paul.
Erin Jerabek Heelan lives in Highland Park and is passionate about bringing public art to all parts of the city to represent the diversity of St. Paul.  She works as a community and economic development consultant and has designed and implemented selection processes for arts initiatives. She has worked with arts groups on public art festivals, including ChromaZone Mural and Arts Festival in the Creative Enterprise Zoom, and Flow: The Northside Arts Crawl in Minneapolis. Erin is on the board of Forecast Public Art. She holds a MA in Urban and Regional Planning from the University of Minnesota.
Maureen Michalski is Vice President of development at Ryan Companies, the developer of Highland Bridge, where she is the development project lead for the large multidisciplinary team of design, construction, development, and other real estate professionals. Maureen is the chair of the High Winds Fund for Macalester College, her alma mater, and also is a board member of NAIOP MN, a real estate association.
Crystal Norcross is board chair of Oyate Hotanin, a Minnesota-based Indigenous arts and social justice organization. She has worked with the City of St. Paul's Department of Parks and Recreation on rethinking Indian Mounds Park and also gave a land acknowledgement for the groundbreaking for Highland Bridge. From a young age, Crystal has been a singer and dancer in Indigenous events. She lives in the East Side Neighborhood in St. Paul.
Ellen Stewart is a landscape architect for the City of Saint Paul, the Department Lead on the Highland Bridge development, and a longtime resident of St. Paul. She feels fortunate to be able to focus on outdoor spaces that foster environmental stewardship and strengthen the communities around them, while adding beauty to people's lives. She enjoys being a part of the integration of art and public space to provide layers of meaning and richness.