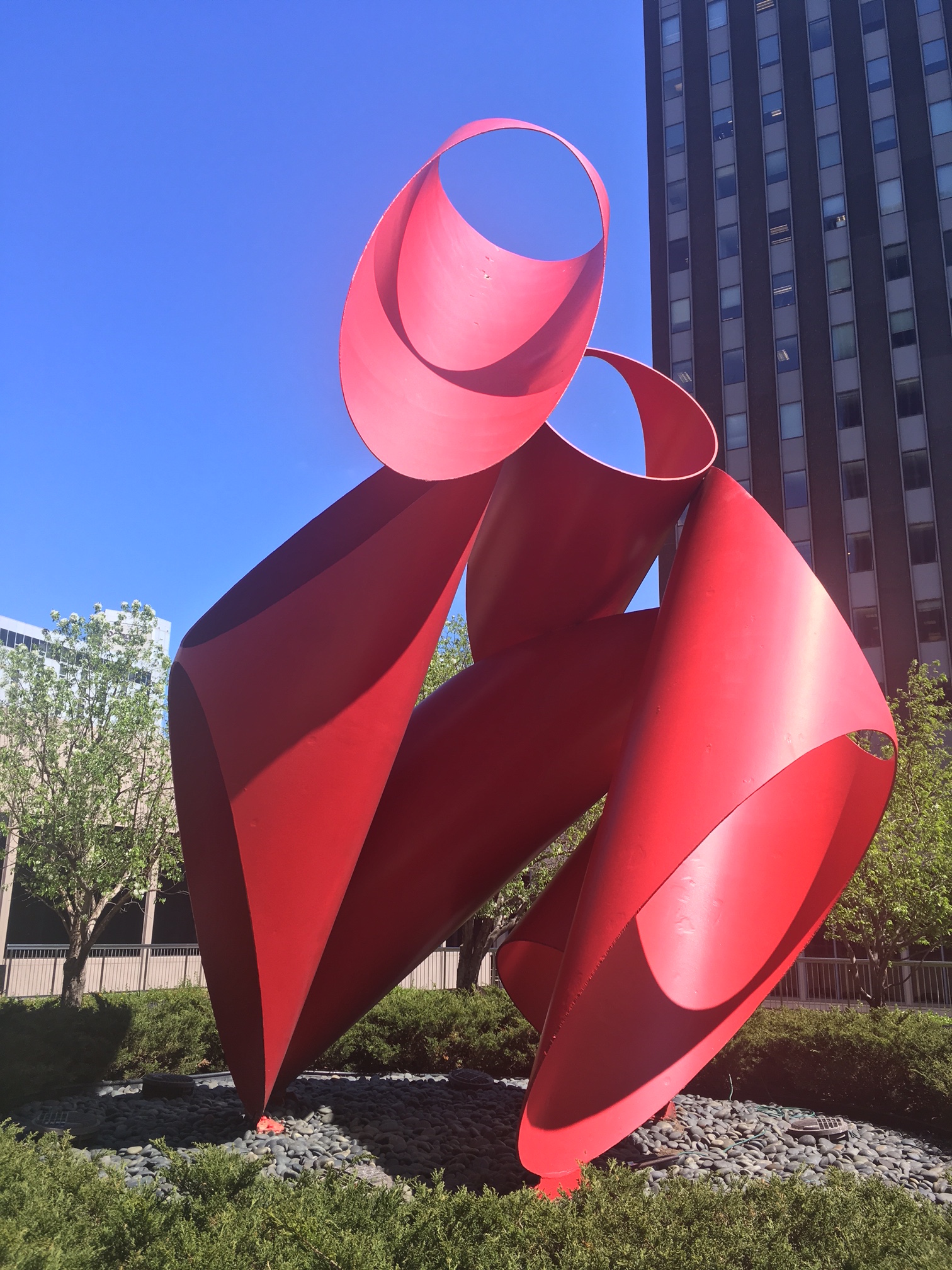 Pop Up Power to the People, a partnership of the City of Saint Paul and Public Art Saint Paul, wins Knight Cities Challenge
Pop Up Power to the People, a partnership between the City of Saint Paul and Public Art Saint Paul, is one of just 33 innovative projects chosen by the John S. and James L. Knight Foundation in its nationwide 2017 Knight Cities Challenge.
Pop Up Power to the People will increase civic engagement through a suite of fun civic engagement tools that gives St. Paul residents the power to design their own community meetings. The free tools, focused on democratizing the process of organizing and hosting public meetings, will be available online for download and at libraries for checkout.
"This award is a testament to our innovative efforts around community engagement," said Mayor Chris Coleman. "Pop Up Meeting makes it easier for our entire community to have a voice in the future of the City of Saint Paul."
The 33 winners of this year's Knight Cities Challenge will share $5 million for ideas that center on helping cities attract and keep talented people, expand economic opportunities and create a culture of civic engagement. To win the challenge, the City and Public Art Saint Paul answered a simple question: "What's your best idea to make your city more successful?" Knight Foundation received more than 4,500 submissions, from which they chose 144 finalists and subsequently the 33 winners. Pop Up Power to the People was the only winning submission from the Twin Cities.
In making the announcement, George Abbott, director of community and national initiatives at Knight Foundation, said: "The winners embody some special characteristics. They share a willingness to step outside of their comfort zones, to try something new and to take risks. They are tenacious and able to pivot quickly while retaining focus on their goal. Each winner has demonstrated a hunger to learn, adapt and iterate, and to share knowledge with each other and the field."
Pop Up Power to the People builds upon the success of Pop Up Meeting, created by Public Art Saint Paul's City Artist Amanda Lovelee two years ago: a popsicle truck that takes meetings to where people live and gather and solicits comments in exchange for free ice pops from the local business, Saint Pops. Over the last two years, 4,294 people have provided public input through Pop Up Meeting, 70% of them for the first time.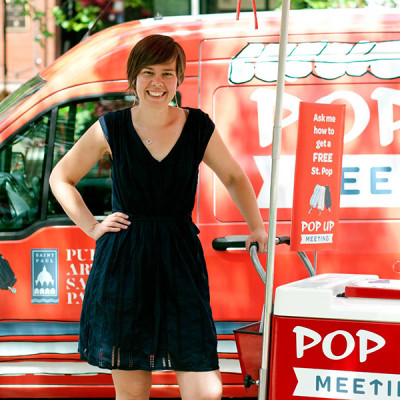 "Traditional methods of obtaining input on public projects and processes rarely engage a wide demographic, especially young and low-income people and new immigrants," said Public Art Saint Paul executive director Colleen Sheehy. "Pop Up Power to the People will build upon our previous success in increasing the number and diversity of participants in public meetings, and the number of residents who host their own meetings on topics of importance to them."
The suite of scalable civic engagement tools will include three forms of outreach:
Small – Templates for signs and surveys available for free download online or printed for a reasonable cost.
Medium – A pop-up meeting in a box kit available for check-out from library branches that would include the tools to host a small-scale public meeting in a public space.
Large – Full-size pop-up meetings hosted by partner organizations on topics of their choosing. The materials include the popsicle truck, popsicles and staff support to help design the surveys and meetings and to capture the data collected accurately.
"Knight Foundation's support provides an important boost to our work in our 30th anniversary year," said Sheehy. "We are thrilled to win this challenge in conjunction with the City of Saint Paul and look forward to getting our work underway this summer."
Ecolab donates Alexander Liberman's iconic sculpture "Above, Above" to Public Art Saint Paul for placement in Western Sculpture Park
Ecolab Inc. has reached an agreement with Public Art Saint Paul, a nonprofit that engages artists in shaping the form and experience of public spaces in the city, to donate "Above, Above," the iconic Alexander Liberman sculpture that has been the centerpiece of the outdoor Osborn Plaza at the former Ecolab Corporate Center in downtown Saint Paul for nearly 45 years. Public Art Saint Paul and McGough Construction will move the sculpture to Western Sculpture Park at 387 Marion Street in Saint Paul.
"We are pleased to work with Public Art Saint Paul to move the sculpture to a more public space for all to enjoy," said Kris Taylor, Ecolab vice president of Community Relations. "We thank Public Art Saint Paul for their partnership and McGough for their willingness to donate time and resources to relocate the sculpture."
"Above, Above" and the Osborn Plaza, the rooftop of the three-story building adjoining the 22-story Ecolab Corporate Center, were dedicated on Oct. 2, 1972. Ecolab is in the process of relocating to its new global headquarters in downtown Saint Paul, and in April, reached an agreement to sell the Ecolab Corporate Center at 370 Wabasha Street to a development team led by PAK Properties.
"We're thrilled to accept this generous gift from Ecolab of a major work by Alexander Liberman," said Colleen Sheehy, president and executive director of Public Art Saint Paul. "Liberman is an important 20th-century artist whose works are in many modern art museum collections and sculpture parks."
Artist Alexander Liberman was born in 1912 in Kiev, Russia, and was considered a revolutionary minimalist artist.  He produced works predating the movement by more than a decade. His fascination with American industrialization and modernization resulted in his widely known red steel sculptures and geometric paintings. His sculpture and paintings are included in numerous museum collections, including the Art Institute, Chicago; the Los Angeles County Museum of Art; the Metropolitan Museum of Art, New York; the Solomon R. Guggenheim Museum, New York; the Museum of Modern Art, New York; the Whitney Museum of American Art, New York; and the Tate Gallery, London. In addition, his public sculpture can be seen in more than 40 cities around the world. Liberman died in November of 1999 at the age of 87.
"We are fortunate to have strong relationships with both Ecolab and the City of Saint Paul," said John Pfeifer, McGough executive vice president of construction services.  "We saw a unique opportunity to honor both of these relationships by teaming up with Ecolab to preserve Saint Paul's art resources and enhance its park system."
"Above, Above" will join 16 other sculptures by local, national and international artists at Western Sculpture Park, a city park where Public Art Saint Paul has maintained a sculpture exhibition and offered youth programs in collaboration with the Saint Paul Parks and Recreation Department for nearly 20 years.