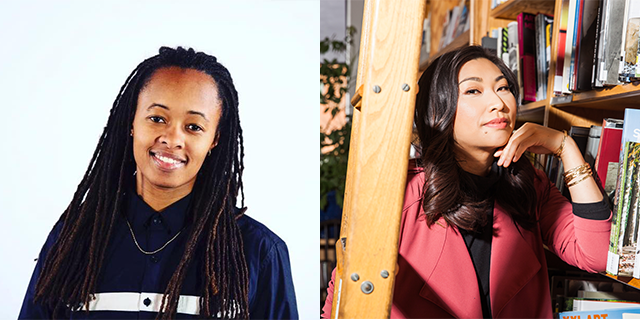 Meet our Sidewalk Poetry Curators of 2019—Saymoukda Vongsay and Tish Jones—two outstanding poets who work in the Twin Cities and beyond
.
As we gear up for our 2019 Sidewalk Poetry Contest, we are excited to announce that PASP members will have the opportunity to hear about this year's contest and to meet the Curators of this year's contest—Saymoukda Vongsay and Tish Jones. They are both award winning writers and inspirational leaders in the Twin Cities literary, theatre, and spoken word scenes. At this event, they will read and perform some of their own work, talk about their ideas of how poetry can help to create community, and discuss their plans to engage St. Paul communities with Sidewalk Poetry.
Sidewalk Poetry is one of Public Art Saint Paul's most beloved public art projects. PASP partners with the City of Saint Paul and its Public Works Department to stamp poems—written by St. Paul residents—into cement, transforming the urban landscape into a collective book, featuring voices of St. Paul. Saymoukda and Tish will help get the word out to organizations and communities to encourage people to submit their original poems for this year's contest, which runs March 15 to April 15. They also will lead a jury of poets to review and vote for 8 new poems to join the collection from the community submissions. With interdisciplinary practices embedded in their own identities as well as social justice, the Curators cultivate values that will celebrate the rich diversity of St. Paul for Sidewalk Poetry.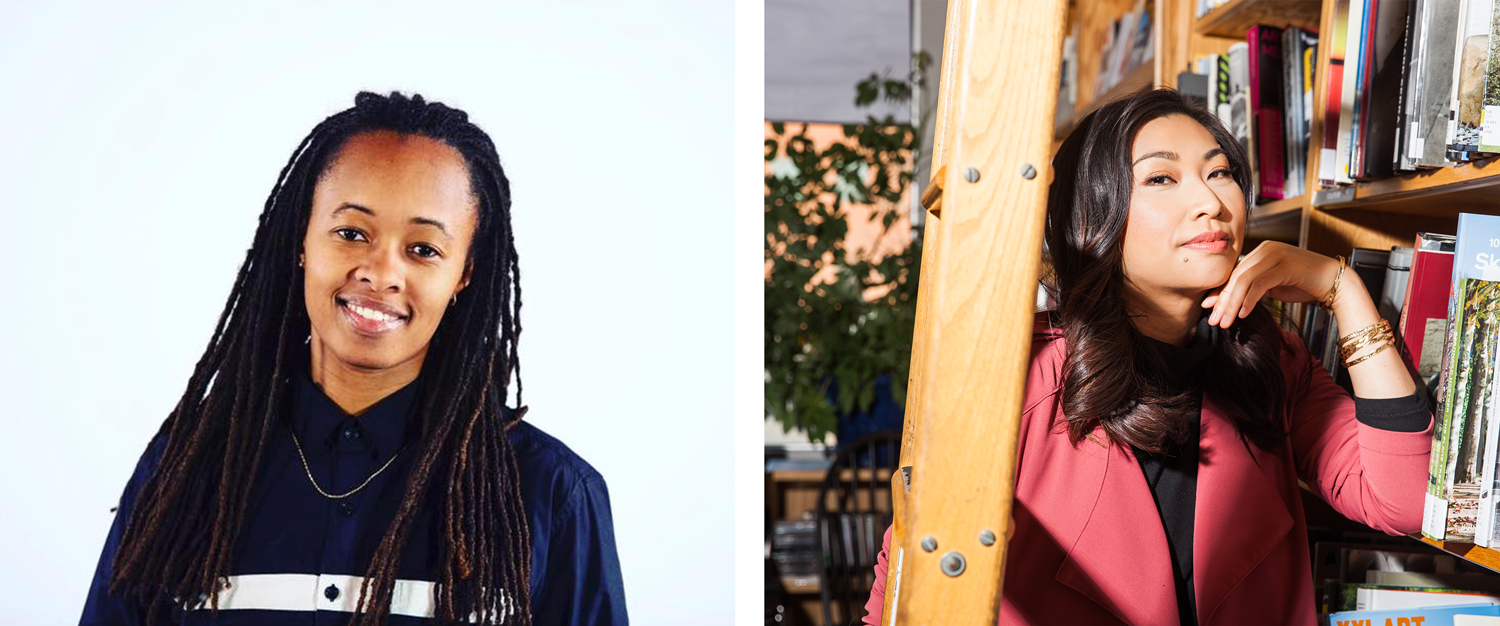 Tish Jones (left), photo credit Matt Mead. Saymokda Vongsay (right), image by Caitlin Abrams/Mpls.St.Paul Magazine.
Join us on Tuesday, March 12th from 7 pm – 8:30pm at Public Art Saint Paul's office space for a lively program with Executive Director Colleen Sheehy and artists Saymoukda Vongsay and Tish Jones.
Sidewalk Poetry began in 2008 as "Everyday Poems for City Sidewalk," a project of Public Art Saint Paul City Artist Marcus Young. Currently there are 54 poems in the collection, that have been stamped many times to fill more than 1,000 sidewalk "pages" throughout St. Paul.
Public Art Saint Paul Members can rsvp to the event by calling our office at (651) 290 0921, emailing jordy@publicartstpaul, or filling out this rsvp form.
Not a member yet? Sign up for a membership today.
Tuesday, March 12th, 2019
7:00 pm – 8:30 pm
*Public Art Saint Paul
381 Wabasha Street N,
Saint Paul, MN 55102
*There are no steps to enter the building from the sidewalk.
There is a slight ramp on the interior leading into the main space.
We are located near many transit lines.
There is street parking available as well as the Larson Ramp, located around the corner.
If anyone needs ASL translation, please contact PASP at least a week prior to the event at 651-290-0921.
---
Saymoukda Duangphouxay Vongsay is a Lao American writer. She was born in a refugee camp in Nongkhai, Thailand and immigrated to Minnesota in 1984. Because of her unique background, her work is focused on creating tools and spaces for the amplification of refugee voices through poetry, theater, and experimental cultural production. In addition currently teaching adjunct at University Minnesota, her plays have been presented by the Smithsonian Asian Pacific American Center, Theater Mu, Consortium of Asian American Theater Artists, and Theater Unbound. She is a Playwright's Center (2018) and Theater Mu (2011, 2012) fellow in playwriting, a Loft Literary Center fellow in poetry (2018) and children's literature (2019), a Twin Cities Media Alliance fellow in public art (2018), and an Aspen Ideas Bush Foundation scholar (2017). Her poetry, essays, plays, and short stories can be found in the Massachusetts Review, the Asian American Literary Review, Journal for Southeast Asian American Education and Advancement, and the Rubin Museum Spiral Magazine, among others. She's received creative grants from the Jerome Foundation, Bush Foundation, John S. and James L. Knight Foundation, Forecast Public Art, Metropolitan Regional Arts Council, and the MN State Arts Board, among others. She holds a Master in Liberal Studies degree and co-hosted a podcast on Minnesota Public Radio.
Founder & Executive Director of TruArtSpeaks, Tish Jones is a poet, performer, educator and organizer from Saint Paul, Minnesota. She has performed at CBGB, Kaplan Theater, The Walker Art Center, Intermedia Arts, The Cedar Cultural Center and more. Her work can be found in the Minnesota Humanities Center's anthology entitled, Blues Vision: African American Writing from Minnesota (Minnesota Historical Society Press, 2015), the 2011 and 2013 Saint Paul Almanac, and the Loft Literary Center's Nation of Immigrants audio CD.
A graduate fellow of the inaugural Intercultural Leadership Institute, Jones has always had a passion for bridging arts & culture, civic engagement and youth development. Senior Field Building Strategist for Youth Speaks, her work explores the ways in which art can function as a tool for social transformation, liberation and education. For more on her personal praxis in this arena, see Jones' TEDxMinneapolis Talk on Spoken Word as a Radical Practice of Freedom.
When you think of Tish Jones, know that she is somewhere dismantling age old systems of oppression, putting on for Hip Hop culture and creating new art to move the conversations forward.