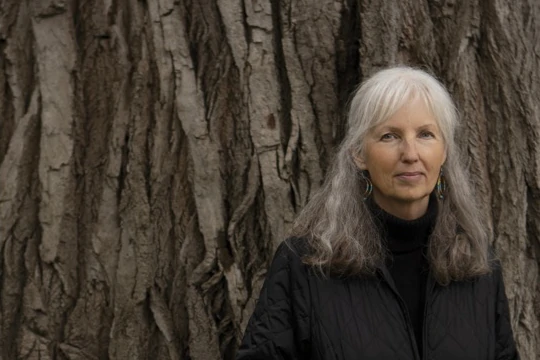 By Diane Wilson
Dip a paddle into Ȟaȟáwakpa, the Mississippi River, and feel how effortlessly she guides a canoe downstream. Beneath the boat swim hundreds of named fish, eluding the river otters, ospreys, and humans casting for food. Gaze skyward in spring to see a river of birds following this flyway home. Their long journeys cross lands made unsafe by hidden predators and vanishing homelands. Here, on this river, sandhill cranes hunt for frogs, drink deeply, and rest. They know that water is life. Safe for the moment, ancient songs of mating and territory carry on the wind.
As the sun warms the rising air, eagles glide in slow circles, carried far by wings spread wide. Peregrine falcons, once near extinction from soiled water, dive at breakneck speed as they pursue smaller prey. A great blue heron wades slowly in shallow water along the riverbanks, hunting small turtles with her long, serrated beak. She builds her nest high in the treetops, creating community to protect her young from raccoons. At dusk, as the sun slowly dips behind a tree line of cottonwoods, a whitetail deer steps from the shadows. His body remembers the Dakhóta who hunted here, their lives entwined, charred remains of campfires buried beneath the grass.
In late summer, sunflowers and blazing stars feed Monarch butterflies on their generational journey south to Mexico. As temperatures continue to fall, the river's trees pull their energy back to their roots, as leaves turn vivid shades of gold, umber, and scarlet. Native bees burrow beneath fallen leaves and in hollow stems. Travelers pull their canoes from the water, find shelter against the coming winter cold.
All of us—plant, animal, insect, human—need water and food to survive. Giving and receiving life is a sacred act, deserving of our highest respect and gratitude. In Dakota we say, Mitákuye Owásiŋ, which means "we are all related." As relatives, we are responsible for taking care of each other, from our sacred waterways to our smallest insects. We are one circle, co-creating the world together.
Diane Wilson (Dakota) is a writer and educator who has published four award-winning books as well as essays in numerous publications. Her first picture book, Where We Come From, co-written with John Coy, Sun Yung Shin, and Shannon Gibney, will be released in October 2022.
Her 2021 novel, The Seed Keeper, (Milkweed Editions) received the 2022 Minnesota Book Award for Fiction. Her memoir, Spirit Car: Journey to a Dakota Past (Borealis Books) won a 2006 Minnesota Book Award and was selected for the 2012 One Minneapolis One Read program. Her 2011 nonfiction book, Beloved Child: A Dakota Way of Life (Borealis Books) was awarded the 2012 Barbara Sudler Award from History Colorado. Wilson's middle-grade biography: Ella Cara Deloria: Dakota Language Protector, was an Honor selection for the 2022 American Indian Youth Literature Award. Her essays have appeared in many anthologies, including: Kinship: Belonging in a World of Relations (2021); We Are Meant to Rise (2021); and A Good Time for the Truth (2016).
Diane received a 2013 Bush Foundation Fellowship as well as awards from Minnesota State Arts Board, the Jerome Foundation, and a 50 Over 50 Award from Pollen/Midwest.
She is the former Executive Director for Dream of Wild Health, an Indigenous non-profit farm, and the Native American Food Sovereignty Alliance, a national coalition of tribes and organizations working to create sovereign food systems for Native people.
Diane is a Mdewakanton descendent, enrolled on the Rosebud Reservation.
Photo by Sarah Whiting