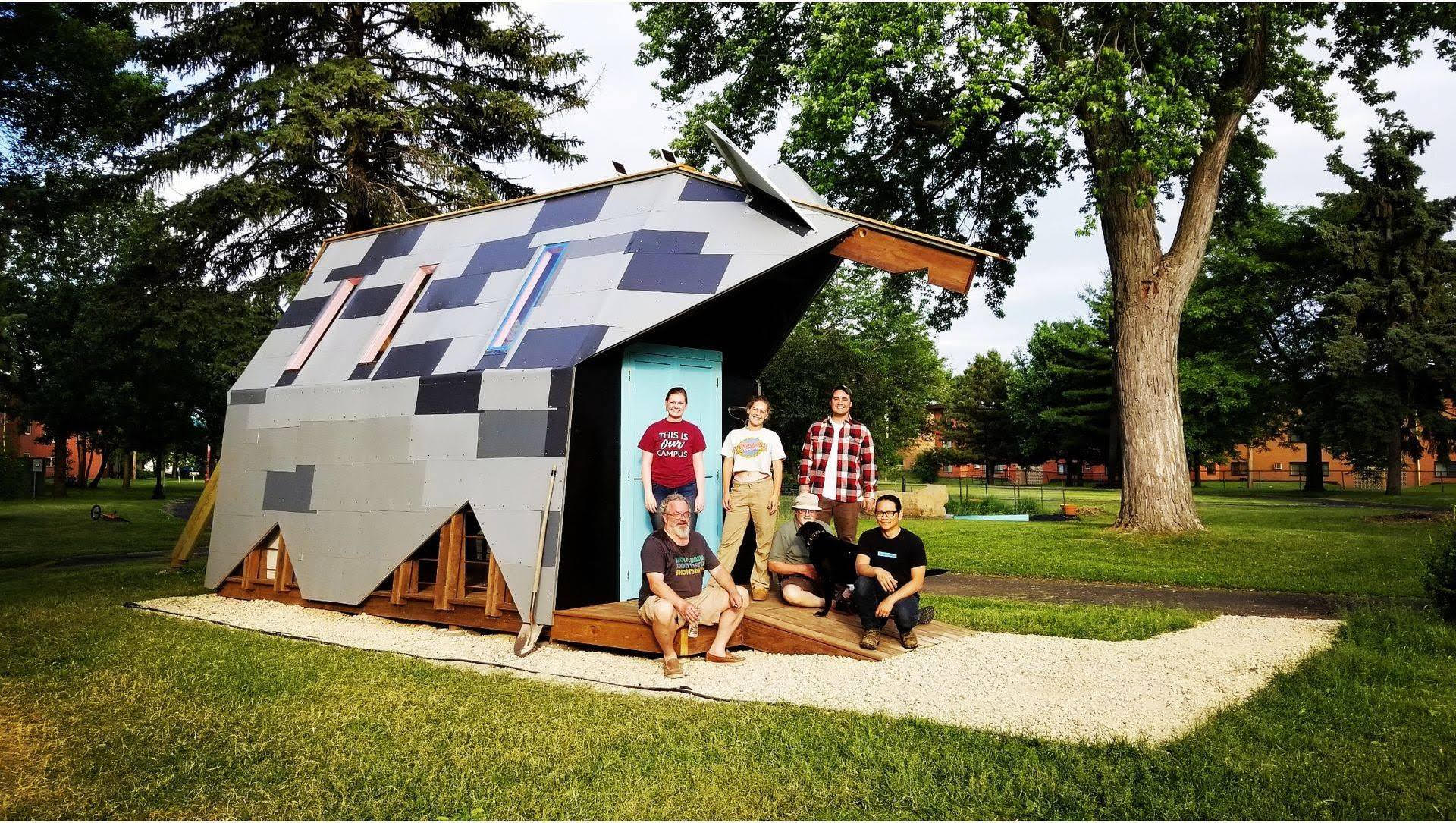 Join our dynamic art organization and have a big impact on public space, neighborhoods, parks, and community events in St. Paul! 
DEVELOPMENT AND ADMINISTRATIVE ASSISTANT JOB DESCRIPTION
ORGANIZATION OVERVIEW
Public Art Saint Paul (PASP) is a private, non-profit organization that works in partnership with the City of Saint Paul and many other organizations to imagine and create a more just, sustainable, and beautiful city. By placing artists in leading roles, we help to shape public spaces, improve city systems, and deepen civic engagement. 
Over our 34-year history, PASP has become a national leader in public art practice. PASP has helped to create key public spaces in St. Paul, including Kellogg Mall Park, Mears Park, Urban Flower Field (Pedro Park), and Western Sculpture Park. Our City Artist Program has been a national leader in embedding artists in municipal governments, where artists sit at the table with city staff and elected officials, working together to find creative ways of city-making and community engagement. In 1998, in partnership with the City's Department of Parks and Recreation and neighborhood residents, PASP created a sculpture exhibition in a neglected city park located in the Rondo neighborhood. For 23 years, PASP has maintained a rotating collection of sculptures and held annual community programs in Western Sculpture Park, which has become a key community asset and green space for the neighborhood. Our innovative approach to public art has generated landmark projects such as MN Rocks! An International Stone Carving Symposium, Wing Young Huie's University Avenue Project, Seitu's Jones's CREATE: The Community Meal, and The Art of Food in Frogtown and Rondo. 
PASP is currently leading the organization of the first St. Paul-Minneapolis Triennial Art Festival, planned for summer 2023.
POSITION OVERVIEW
The Administrative and Development Assistant is a full-time position that provides critical support for the financial health and operational strength of Public Art Saint Paul, working with the Executive Director, Board of Directors, and other PASP staff. This position is fully integrated into all PASP activities in our small organization. This is an excellent opportunity for a candidate who seeks to grow and develop leadership within an arts organization.
To be successful as a staff person at Public Art Saint Paul, the ideal candidate possesses the following:
– A passion for public art
– A team player with a positive and collaborative attitude
– Versatility in a broad array of organizational settings from offices to outdoor program and project spaces, to partner sites
– Demonstrated cultural competence with a focus on equity and inclusion
– Excellent organizational and computer skills
DESCRIPTION OF RESPONSIBILITIES
Development (40%)
– Maintain accurate donor records and files, continually update the online database; produce donor and other reports.
– Assist with membership program strategies, communications, and program activities (e.g., maintain guest lists, prepare registration materials)
– Prepare donor acknowledgement and gift documentation
– Maintain online grant proposal and reporting calendar
– Assist with grant proposals and reports, and work with program managers to track program statistics
– Assist with research on foundations and individual donors
– Attend and support events related to organization activities (e.g., PASP programs, conferences, City events)
– Assist in planning, set up, and staffing of general programs, membership events, and special events, such as the annual fundraiser (ARTopia Gala). Ensure that all aspects of promotion, registration, auction, and other activities go smoothly
Communications (40%)
– Work with team to create content for the PASP website and social media platforms; send out weekly eblast and other posts
– Work with the ED and public relations / design consultants to maintain and grow PASP communications and social media strategies
– Assist with the design, editing, and proofing of print and digital collateral, including quarterly newsletters, brochures, etc.
– Manage the PASP inventory of photos, videos, and other media assets for marketing, communications, fundraising, and event use
Administrative (20%)
– Provide administrative support to the Executive Director and periodically for other PASP staff for their projects and programs
– Participate in staff meetings, and other vital administrative, promotional, and organizational meetings and activities
– Coordinate and manage PASP meeting logistics, including preparation of meeting materials and documenting proceedings
– Maintain organization's paper and electronic filing systems
– Provide data management assistance
– Monitor and manage inventory of office supplies and management of office equipment
– Greet and provide hospitality to visitors, guests, and partners at PASP offices
– Answer telephone, direct calls, and take messages
– Help with incoming and outgoing mail
– Organize office areas, including archive, library, supply, and storage areas
– Attend to office environment to ensure that common areas are organized and clean; coordinate with cleaning services and vendors
– Handle trash and recycling operations
POSITION REQUIREMENTS
– Associates degree or bachelor's degree or equivalent work experience
– Demonstrated competency in project management, including good organizational skills and the ability to manage many tasks simultaneously
– Outstanding interpersonal skills and a proven ability to work cooperatively with others
– Ability to occasionally work evenings and weekends when needed
– Excellent written and verbal communications
– Proficient with various software applications (MS Office, DonorPerfect) and social media platforms including Constant Contact, Facebook, Instagram
DESIRED SKILLS & EXPERIENCE
– Flexible and able to multitask and problem solve
– Experience working on events like fundraisers
– Experience in nonprofits as an employee or volunteer
– Experience with art and artists, donors, and art audiences
ADDITIONAL INFORMATION 
– This is a regular full-time position, with occasional evening and weekend hours
– PASP employees receive a monthly benefits stipend that employees can use as they desire for health care, retirement, parking and transportation, or as a salary supplement. PASP has PTO and ESST benefits. PASP has an employee retirement plan.
CURRENT WORK ARRANGEMENTS DURING COVID-19
Public Art Saint Paul employees have been primarily working from home during the COVID-19 pandemic. We are continuing to monitor the health and safety situation as we move into fall with the increase in cases. PASP employees may move into a hybrid workplace pattern, with some in-office days and some work at home days in the M-F work week. This position would be expected to work in the PASP office at 381 Wabasha St. N. in downtown St. Paul for much of the onboarding period and when regular hours and patterns are established, although in the longer term a hybrid work pattern may be established.
HOW TO APPLY
Application deadline: Monday, September 13 at 11.59 PM
– Applicants should submit a resume with a cover letter describing how their experience qualifies them for the position and why they're interested in this role at Public Art Saint Paul.
– Include three references with email and phone contact info
– Submit all materials together in one PDF form and name the file: (applicant last name, first name).
– Email to pasp@publicartstpaul.org
Starting Salary Range: $40,000 – $43,000
Public Art Saint Paul is an affirmative action/equal opportunity employer and does not discriminate on the basis of race, gender, disability, color, creed, religion, ancestry, sex, national origin, sexual orientation, citizenship, age, veteran status, marital status, or status with regard to public assistance. Individuals with disabilities, people of color, women, trans, and gender-queer individuals are strongly encouraged to apply.