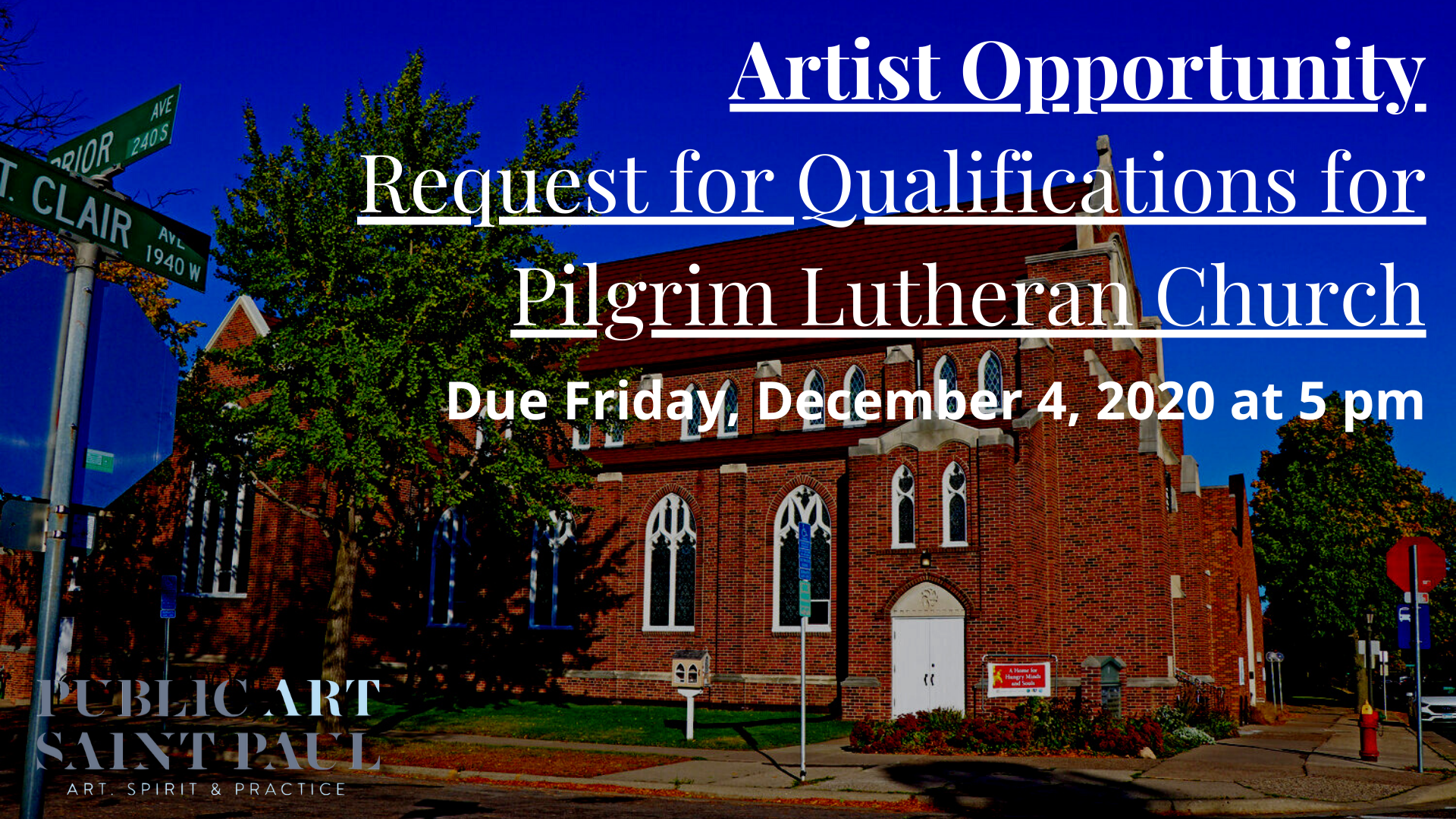 Request for Qualifications
for Public Artists for Project at
Pilgrim Lutheran Church, Saint Paul
Process led by Public Art Saint Paul
Phase 1 – Request for Qualifications due by
Friday, December 4, 2020 at 5:00 PM
The commission amount is $10,000, including the artist's fee, fabrication, and installation.
PILGRIM LUTHERAN CHURCH PUBLIC ART PROJECT
Pilgrim Lutheran Church (PLC) seeks artists or artist teams to apply to be considered for a public art project on the Church's small outdoor campus at 1935 Saint Clair Avenue, at the corner of St. Clair and Prior Avenues in Saint Paul. Church members come from the Highland and Macalester-Groveland neighborhoods as well as other areas of the Twin Cities. PLC seeks to work with an artist on a public art piece that will advance its goals of deeper engagement with their neighbors, expressing welcome and fostering an openness to all. The piece might also engage in issues that animate their discussions on social justice, racial equity, and environmental stewardship.
BACKGROUND
Established in 1921, Pilgrim Lutheran Church has an activist history as a mission church that continually evolves to better serve its congregation and community as a place for "hungry minds and souls." Its congregation and leadership are progressive, thoughtful, and socially conscious, responding to contemporary society and its pressing issues, ranging from inequity to climate change. They "seek to be a community of solidarity and service, living out the countercultural values of the gospel, grounded in moral courage and love for one another, our wider communities, and the whole creation." They continually seek to put their beliefs into action. PLC has divested its endowment from the fossil fuel industry and strives to reduce energy use and waste in its activities and building. They are LGBTQ welcoming and inclusive and are actively developing a land acknowledgment statement to be used at church events. Church committees address Racial Justice, Mission and Social Justice, Just Peace, and Pilgrims Caring for Creation. They ask themselves: How can we be public witnesses of hope, love, and solidarity?
PLC also values creativity and nurtures a creative spirit in their activities. They believe in the power of art to communicate across cultures, ages, and backgrounds. They practice experimental approaches to liturgy and embrace new ideas to make the church relevant to their members and responsive to the times we live in.
The congregation is young, with 30% being 19 years of age and younger and 62% under the age of 49. There are also many lifelong congregation members who have been invested in the community since they were young. The church has an active Young Adults group of 20- to 30-year-olds that meets regularly to create community, develop leadership, and guide the church's future. Many of their young adults are on the Public Art Committee.
For more information, go to https://www.pilgrimstpaul.org
DETAILS OF THE PROJECT
The commission amount is $10,000, including the artist's fee, fabrication, and installation.
PLC's ideas for the artwork are open-ended, including artistic medium. Religious imagery is not necessary, and the work need not be representational. Work can be 2 or 3- dimensional and should be designed to be safe and durable enough to last from 3-5 years in an outdoor environment.
PLC is open to artists' creativity to imagine art that will be engaging to people who pass by the church at this active intersection in the middle of a residential neighborhood. An artwork that encourages physical interaction and ongoing social engagement could be appealing.
Based on community engagement and the Public Art Committee's ideas, PLC would like to commission a work that is bright, colorful, engaging, and that fosters interaction. The tone could be fun while also making people think.
PLC imagines a work that is open-ended without one dominant message, or one that poses questions.
Community favored an artwork located in or along with the green space at the west side of the church building, seeing that as inviting space.
PLC seeks to draw from the richness of artists across St. Paul and the Twin Cities. Artists need not live in the PLC neighborhood.
PLC has conducted community engagement and gathered information from neighbors and Church members. The artist or artist team will not be required to undertake additional engagement activities unless they wish.
The commissioned artist or artist team can work with fabricators or other vendors to build the actual artwork or can fabricate it themselves.
PLC aims that artwork would be installed in summer or early fall 2021.
COMMISSION PROCESS
This Commission has three phases: Request for Qualifications Phase, Finalist Phase, and Commissioning Phase.
Phase 1) Request for Qualifications: Please complete the RFQ form to provide an understanding of your artistic practice and background. Tell us why you are interested in this project, client, and site. You do not need to propose a specific art idea in this step. Provide a link to your website or submit 5-6 images of past artwork. For each work, include title, date, medium, and dimensions. If a public art piece, include its site.
DEADLINE: Please submit the completed Google Form and art images by 5 PM on Friday, December 4, 2020.
Phase 2) Finalist: The PLC Public Art Committee will review applicants' qualifications, interests, and artworks and will invite up to 4 artists to submit a specific idea for a public art project. Each finalist will receive a $200 stipend to develop a specific conceptual proposal that will include a preliminary budget (proposal requirements will be shared with finalists). Finalists will be notified by December 21st  and will be asked to submit their specific proposal by January 11, 2021. The Public Art Committee will hold interviews on an online platform with the finalists as part of the review process.
Phase 3) Commissioning: The Committee will select one artist or artist team to be commissioned to work with the PLC Public Art Committee to fully develop a design idea for their site and a more specific project budget. This committee will work with the artist to realize, fabricate, and install a public art piece with the goal of installation in summer or early fall 2021. Artist commission will be decided by February 5, 2021.
CRITERIA FOR SUCCESS FOR RFQ
Interest in this project that demonstrates an understanding of PLC and its goals for public art
Imaginative and skilled art practice that shows interest in fostering human connections
Interest in addressing social or environmental issues in art
Some experience working on public space projects
Desire to connect art with the community
Ability to work with and communicate with client and user groups
Demonstrated ability to complete projects on time and in budget
Commitment to advancing anti-racism
PUBLIC ART SAINT PAUL
Pilgrim Lutheran Church is working with Public Art Saint Paul (PASP) to manage the artist selection process. Public Art Saint Paul is a nondenominational organization. Established in 1987, Public Art Saint Paul aims to place artists in leading roles to shape public spaces, improve urban systems, and deepen civic engagement. From place-based projects like Western Sculpture Park to major art events like CREATE: The Community Meal, from dispersed art projects like Sidewalk Poetry to game-changing programs like a City Artist working inside municipal government, PASP links artists and communities to build more vibrant, equitable, and sustainable public spaces and public life. www.publicartstpaul.org
For questions, email Colleen Sheehy, Executive Director, Public Art Saint Paul at colleen@publicartstpaul.org