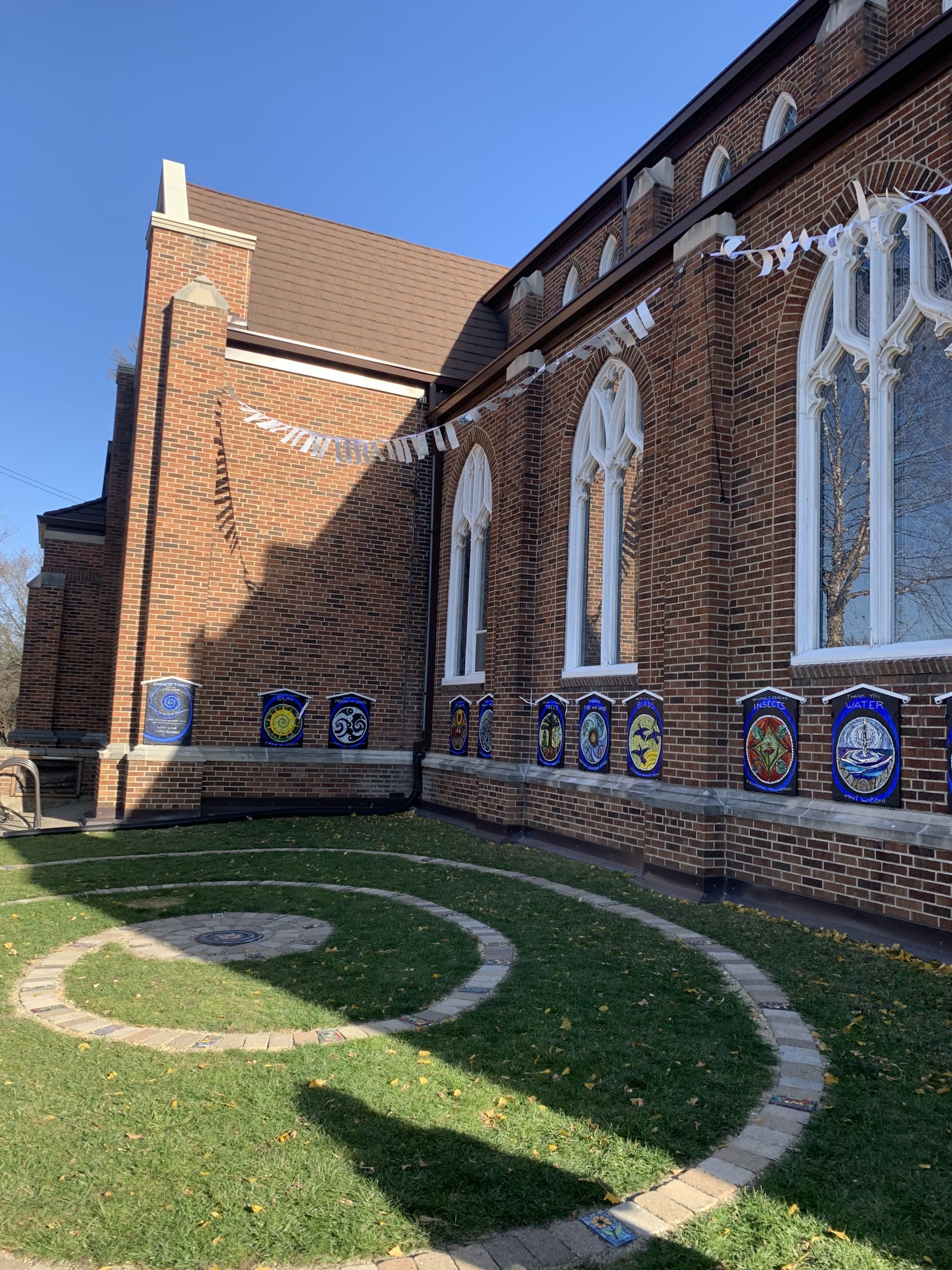 Public Art Saint Paul can provide organizations with public art consulting services for your public art projects. Services range from helping your organization clarify and describe what you hope to achieve through a public art project, to organizing and managing artists' calls, helping organizations select the best artist or artist team for the project, and managing the design, fabrication, and installation phases of your project. PASP consulting fees fit your project and bring people with experience and expertise to your work to meet your goals and achieve your dreams.

To inquire about PASP Consulting Partnerships, contact Ruby Joy Kinney, Development and Administrative Assistant, at ruby@publicartstpaul.org.
Recent Community Consulting:  Pilgrim Lutheran Church Public Art Project 
"Here in this Place", by Sandy Spieler and Luisa Cabello Hansel
Anticipating the 100th anniversary of its founding, Pilgrim Lutheran Church sought a way to make their progressive values visible on the grounds of their building in a way that would welcome neighbors and people of many backgrounds. They had received a grant to support a public art project. The Church contracted with PASP to help them envision what they could create and seek out artists who could put their hopes and dreams into physical form. A PASP team worked with their Young Adult Committee (young adulthood includes people in their 20s and 30s) as their public art committee, which also included Jen Rome, Pastor of Next Generation Ministries at Pilgrim Lutheran Church.
Pastor Jen shared her thoughts with us about the impact of this piece on the community surrounding Pilgrim Lutheran Church:
"We have already seen people experiencing the piece with their whole selves–walking the spiral, approaching the mosaics, gently touching the glass with one finger, standing in front of the land acknowledgement pole, looking up at the flags whipping in the winter wind-not only people of the Pilgrim congregation, but of the community as they go about their lives at our busy little pedestrian corner.  The deep, reflective beauty of all of the elements of the piece have embodied the grounded gratitude that the artists sought to express. Pilgrim Lutheran Church is so grateful for this public art and we will continue to engage with it as we worship, learn, care and pray for our community and our earth." 
Public Art Saint Paul led a visioning exercise for the congregation combined with community engagement to hear from their neighbors. Ideas for what the Church wanted were gathered and clarified. PASP developed and managed a "Request for Qualifications" process for artists to apply for consideration of this public art opportunity. Reviewing the 20 applications, Pilgrim Lutheran Church's committee selected 4 finalists who were invited to develop a specific proposal (and paid a stipend to do so). After hearing the ideas of the 4 finalists, the committee selected the artist team of Sandy Spieler and Luisa Cabello Hansel as the recipient of the $10,000 commission.  
On Sunday, November 19, the installation project, titled "Here In This Place," was dedicated by the Church with the artists and their collaborators. This multi-element installation includes a Welcome Pole, topped by a crow, with text that recognizes that the Church is on Dakota land; a spiral walkway embedded in the lawn, and 12 mosaic plaques displayed on the building exterior that express gratitude to the elements that make up our universe and life on Earth. In her opening remarks, Sandy Spieler said that the mosaics were inspired by the Thanksgiving greeting of the Haudenosaunee people, who live in present day New York State. 
Read the Haudenosaunee Thanksgiving Address Greetings to the Natural World here.
Watch a clip of the dedication of "Here in this Place"