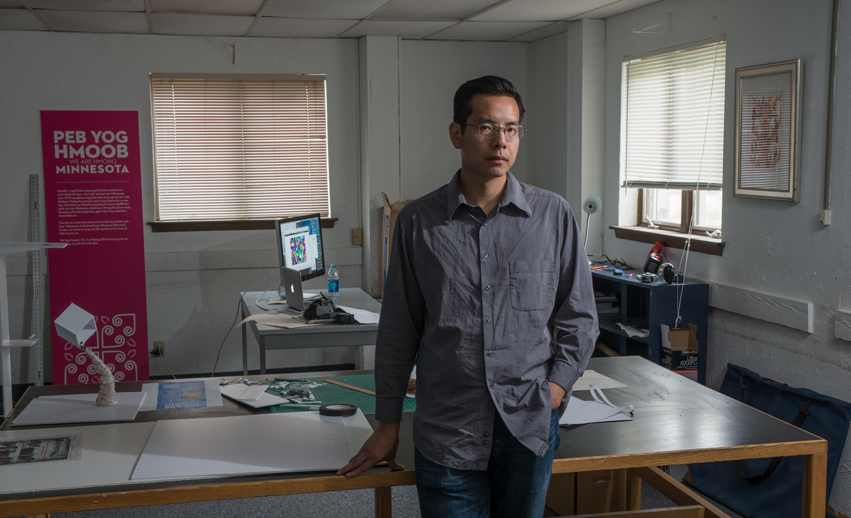 I met up with Public Art Saint Paul Intern Sieng Lee at Hmongtown Marketplace to talk about what he's been working on. Located at the intersection of Marion Street and Como Avenue in Frogtown, the market is a central hub for two of Sieng's projects and for the Twin Cities Hmong community.
Owned by Toua Xiong and Nu Yang, Hmongtown Marketplace took over a former lumberyard in 2004. With two buildings filled with booths by 150 local vendors, the market also takes over outdoor areas spring through fall. Today, the market is packed with locals and visitors from near and far. It was my first visit, and I was struck by the number of vendors and the variety of products for sale—everything from fresh produce to meat, ingredients for traditional medicine to toiletries and clothing.
Sieng is planning a food event to take place here on Saturday, February 18, working with Mary Johnson, PASP Director of Education. This event is part of a large initiative to develop a food plan for Frogtown and Rondo that PASP is collaborating on with Asian Economic Development Association (AEDA), Urban Farm and Garden Alliance, and Frogtown Farm. Sieng and Mary are enlisting a youth group from the Science Museum of Minnesota and community organizations and schools in Frogtown and Rondo. Focusing on a drop-in youth audience, the event will teach young people how to make spring rolls and ice cream. They will be led by teen mentors, while having open conversations about healthy eating and access to healthy foods —kids teaching kids. They will be encouraged to share what they learned on social media.
Sieng is also in the design phase a sculpture for the green space around a small pond at the market's entrance. These new outdoor elements aim to beautify and calm the busy area. They also will attract people to visit, shop, and spend time at the marketplace, one of the most unique cultural sites and shopping experiences in the Twin Cities.
Sieng grew up in the small town of Appleton, Wisconsin, after his family settled there from a refugee camp in Thailand. He earned a B.S. in graphic design at Herzing University in Madison, Wisconsin, and an M.F.A from the Minneapolis College of Art and Design. In graduate school, he moved towards an interest in fine arts, sculpture, and installation art. As an artist of Hmong heritage, he is interested in using design in a way that is impactful, rooted in community and identity, and socially conscious.
He became drawn to public art in thinking about the power that art had given him as a kid—especially as a young person of color—and how he could enable others to have similar opportunities. Sieng wants to make work that reaches out to new communities in order to counteract the intimidation, boredom, or isolation they may feel in a typical art gallery or high design setting.
His recent achievements include earning a competitive Jerome Foundation Fellowship for Emerging Artists, awarded a Cultural Community Partnership Grant by the Minnesota States Arts Board, and serving as lead exhibit designer for the We are Hmong Minnesota exhibition at the Minnesota History Center.
We're excited to have Sieng as part of our team!
By Kate Sheldon, Administrative Assistant
Winter 2017 Newsletter Article