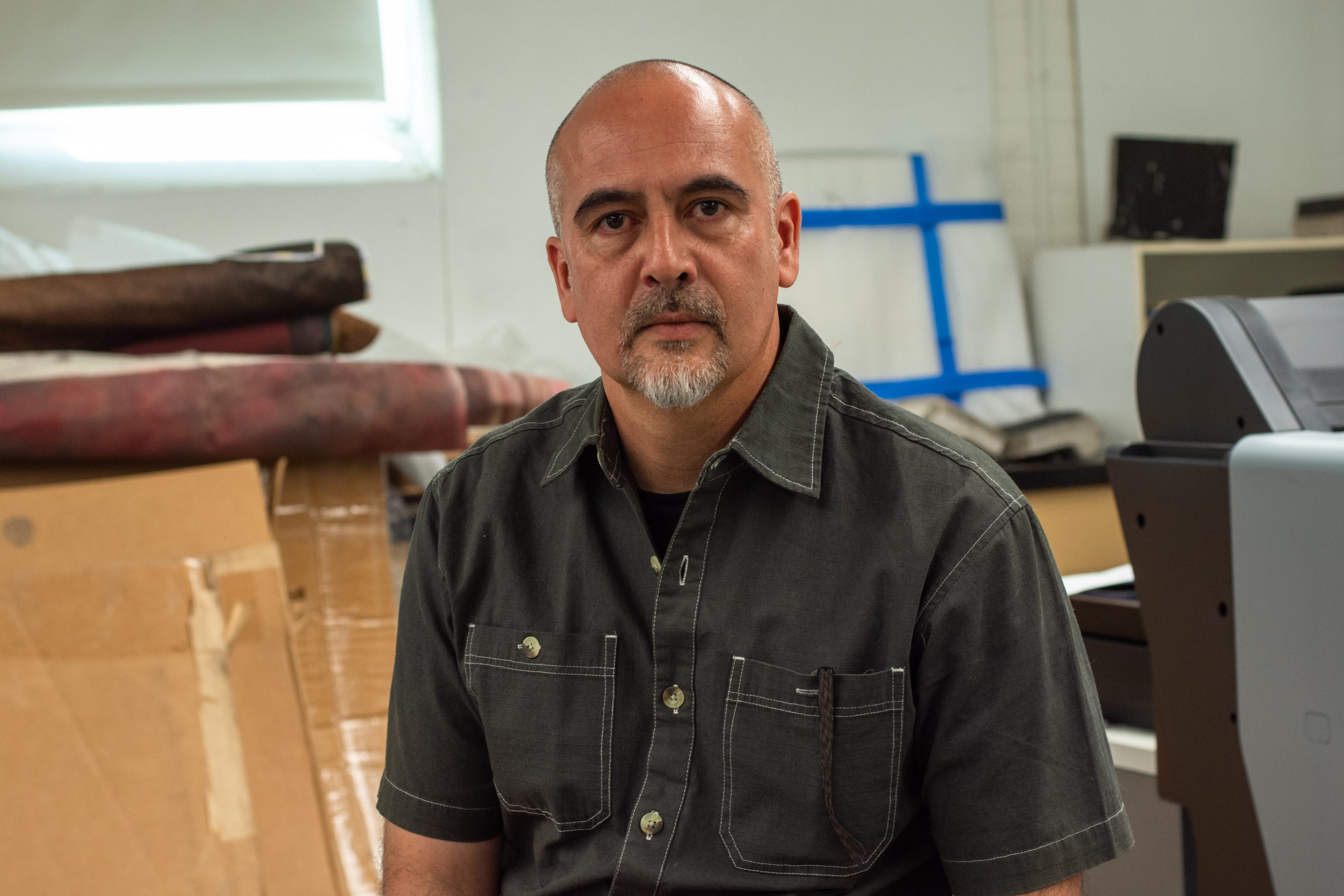 Interview with Xavier Tavera by Sheila Regan
Photographer, sculptor and public artist Xavier Tavera pays homage to El Nuevo Rodeo, the Latinx nightclub destroyed by fair in the unrest following the murder of George Floyd with an installation constructed at the site the club once stood. The piece juxtaposes silhouetted images of the community who used to frequent El Nuevo Rodeo with a trail of footprints in a scathing commentary about U.S. immigration policy in the work.
An assistant professor at the Department of Art at Carleton College, Xavera was born and was raised in Mexico City, and is currently based in Minneapolis. His work has often navigated Latinx culture and identity, earning the artist recognition from the McKnight and Jerome Foundations, the and the Minnesota State Arts Board, and he's won a  Bronica Scholarship. His photography work has been shown in galleries and museums internationally, and increasingly, he's broadened his practice into public art, including a recent commission by the city of Minneapolis along with his partner, Maria Cristina Tavera.
Can you introduce yourself and say a little about your project? 
My name is Xavier Tavera. I'm a photographer. I'm a filmmaker. I'm an educator. Sometimes I'm a public artist. And I was fortunate to be selected as one of the artists for the Wakpa Triennial this year, 2023. 
You frequented Nuevo Rodeo often— can you describe what it was like inside and what it was like to be there? 
That's a super interesting question because some artist friends were in charge of doing sculptures and doing images and making the branding and all that stuff for Nuevo Rodeo. So before it was a thing, Gustavo Lira was doing sculptures, Luis Fitch was helping with the identity, so we knew that it was going to be something, and then when it was something, we used to go there and frequent the place. I would go there with friends, Tina Tavera, my partner, with her mother. Every occasion was completely different. 
And can you tell me what it was like the night that you heard that it was on fire? Can you describe your emotions when that happened?
It was a sequence of events. Right on the second day after George Floyd was publicly murdered by the Minneapolis Police, I was in the street with my camera. I was documenting the historical events. And I took part in a lot of protests. And actually that first day, I wanted to retrieve a tear gas canister from right there in the front of the third precinct. And Tina drove me there. I stepped out of the car. It was complete chaos at night. There was tear gas, there was a line of police officers right there in the building. I retrieved that canister. And a police officer pointed a 40 mm launcher right at my face. And it felt very real. The police station is a block from what used to be Nuevo Rodeo. That was the first night. Then in the morning we started to learn that places were burned. 
And I think it was probably the second night we saw the images on TV. And the next day we went over to the place and it was completely— it was over. 
It was hard, but as hard as it was to see all of these buildings getting burned— And brick and mortar doesn't mean much— But the discontent of people towards police brutality, that I think that what matters.
So for your project, can you describe what people will be seeing when they visit it?
Yes. So right now, in the site of Nuevo Rodeo on Lake and 27th, there's nothing there right now. It's just a vacant lot. I'm going to put, right there very close to the former entrance to the place— I'm going to place a metal structure 10, 12 feet up. And on top of that, I'm going to place a 42 foot train container, close to where Nuevo Rodeo was. It is going to be carved.  The walls of the train container, they're going to be carved with silhouettes of people that used to frequent the place. I have an Aztec dancer, I have people that are going to dance, I have a pachuco, I have a Brown Beret, and these iconic subjects. I photograph them first, and then I make them a little more graphic. So we're going to carve in the sides of the train their silhouettes. The container is going to be painted white on the inside, and it's going to be lit up with LED lights. So at night, you will see those silhouettes being lit up. That's on one side. On the other hand, I have a torito.  It refers to the half of the bull that people carry on their shoulders. Somewhere around 70 something percent of the Mexican population in Minnesota is from the state of Chiapas, from Morelos. They bring a lot of traditions. And one of them is the chinelos, one is the tecuanes, and one of them is the torito. The torito is also very popular around all Mexico. It is the head of a bull, made up of papier-mâché, adorned with flowers, and fireworks. And when lit up, the person who's going to carry it is going to go around very close to the people that are observing with music and all that. That's going to be the second side. And on the bottom, we're going to carve 54 silhouettes of shoes. Last year, in the outskirts of San Antonio, they found a semi trailer full of migrants. 52 or 54 were deceased. Men, women, children, people from Mexico, the majority of them from Guatemala, Honduras, from El Salvador. And it's a terrifying thing that we haven't done much to fix the immigration system that we have. We are taking risks to come here and to work and provide for this community for the US. So it's a little heartbreaking that we still have to do that, there is no logical agreement between countries to make this more visible. So I'm paying homage to them by putting their silhouettes, the silhouettes of the people at the bottom of the  container. 
For the silhouetted images that are taken from photographs, can you tell me about the people that you photographed?
Yes, I photographed a pachuco— a pachuco is a very well dressed man or woman. It's a very specific tradition that comes from the 40s. And actually, in LA it was outlawed because they thought it was excessive. The suits go all the way down to the knee, they have a very short tie. They have a hat with a feather. And that tradition comes from LA,  that comes from Juárez, that comes from Mexico City, and is evident in almost any Latinx town that prevails in the US. 
Where did you get the suit? 
I have a friend that used to frequent Nuevo Rodeo a lot. He's an amazing dancer. And he has a suit. I didn't have to buy anything. He is a pachuco. He has the mustache, he has the outfit, he has the mannerism of a pachuco. He has the language. And he actually goes dressed like that still to two different dance clubs in Minneapolis. 
The other one is an Aztec dancer. And she has a tall hair dress because also they were  occasions where the Aztec dancers would take part in events. They will be there. I have a worker— what seems to be a worker, a very well dressed man with a cap. I have Brown Beret. We have in Minnesota Brown Berets, that's also a tradition from the 60s that's nationwide. They are this force to protect the community.  I knew a mariachi singer. And this one I didn't photograph here, but I photographed in Tijuana. So the piece is also about migration. He's an amazing guy. He was kind enough to let me photograph him right there at the border fence. I have a lady— well dressed with her purse and her phone— waiting to enter the place. There are 12 characters.
Did you bring in partners to help you with the construction and in the cutting of the metal? 
I have been doing public artwork for a long time. It usually has a photo base because that's what I do. I'm a photographer. A couple of years ago, me and my wife, Tina, were commissioned to do a public art piece between Lake and the Greenway where 35W is. And we put a lenticular piece there. It's metal- it's corten and stainless steel. And that same fabricator, Ben Janssens, I consulted with him, and we consulted with engineers, and they're going to fabricate this.
The piece seems to be working with two ideas: one being the echoes of the people that once frequented Nuevo Rodeo, and the feet representing the people at the border. How are you thinking about these ideas in the same piece? 
I truly believe that most Latinos, Latinas, Latinx in this country are highly influenced by the border. Either we crossed it, or either the border crossed us in the 1800s. It is something that is constantly on our minds, that same notion of the border replicates around the country. So you can see it here in Northfield in Viking terrace where all the Latinos are, you can see it on Lake Street- that clash of cultures, those colors that are not Minnesotan, but are now Minnesotan.  The flavors, the music, the people, the art, it's right there. So it has an echo from that border. And any issue with the border, we're always paying attention, because it affects us. This is politically and socially, how we see ourselves and how they see us. 
So I can't get away with not making a comment on a Latino place without immigration. And that's what the whole point of 40 foot train containers is— the transport traffic of goods, of people. We are paying attention to the new laws that the Florida governor is putting in place how that state is getting vacated  because of these anti immigrant policies. It affects us all, it doesn't matter that we are hundreds of miles away. It is still there. So I think it's important, it's important to make a point. And it's a constant thing.
A couple of months ago, people that fought for 15 years in Minnesota, finally pushed hard enough so everybody can have a license. Why does that have to do with art? What does that have to do with my piece? Probably nothing. But we're still paying attention. I think it's important. 
Nuevo Rodeo was a place for the Latinx community, but also they would rent it out for the Somali or the Hmong community and the African American community. Could you talk about that in terms of the Wakpa Triennial being a space for mutuality, and for sort of communities coming together and healing?
The Nuevo Rodeo in the majority of their events were LatinX, or if I can attempt — Mexican, but not exclusively. And that was the beauty of it, where the Hmong community would rent the place, and I think it was Wednesdays, so they would come and have a DJ. And were free to dance and speak their own language and display culture and festivity. The same thing happened with the Black community. They would rent the place. They would bring hip hop, rap, they would dance, they would break dance, and it was quite lovely to see that as well. It was a place that had many confluences and a lot of intersections.
Do you see your piece as a place for conversation around healing around communities coming together? 
I'm gonna be very interested in hearing from the local community, how they perceive this, because this piece is with all the intention to do some kind of memorial of that place. By any means, it's a piece of anger or of frustration. Things have to happen. Buildings have to be burned. People have to be woken up. People have to realize that the place that we live in, is not just a place of comfort. It has a lot of problems. But it also has beautiful people. And it also has the possibility of dialogue. And maybe that's what the piece can be. The piece can be the possibility of a dialogue, where people can comment: Hey, I remember having a good time there. I remember seeing this. But also, I remember the unrest. And it was hard. And it was hard for all of us. And it's still hard. It hasn't gone away. And to make a reflection of that. Make a reflection about what we all collectively— not only Latinos and Latinas, but everybody, What we've been through. We have a short memory.  We have a short historical memory. So trying to say, Hey, this was something good or bad, this was a place of renewal. This was a place of convergence. This was a place where we can be ourselves—Black, Hmong, Latinos white. And it's no longer there, as everything in the world— it has to evolve into something else. And hopefully, we keep some kind of document either in our minds, our hearts or physically what this place was. 
Can you talk about the audio visual elements and the lighting that will be part of the piece?
Yes. So paired with this, I'm interviewing  people that used to frequent the place and it has been very interesting. And maybe that's where a solid physical document is going to be. That people without any filter can tell stories about that place, a place where you can go with your family or you can go there to try to get a partner or whatever. So many stories. But also it's a story of culture.  I already interviewed my pachuco friend, Ruben Urrutia. I interviewed Luis Muños  — we call him "Comandante"— he has dreadlocks down to here. And he knows about the rock'n'roll scene at Nuevo Rodeo. He also knows the stories about pre Nuevo Rodeo where we did find music like this. So little by little, I am interviewing people. So I contacted one of the security guards and one of the bartenders. I'm not trying to do a romantic vision of what that place was. It is more a place where we used to gather and is no longer there. 
And as for the light, the place was lit up at night, both internally and to the outside. And to light it up— the container— from the inside that emanates light to the outside. It could be interesting.
Is there a different entry point for you to work on a piece that is so close to you emotionally? 
There's a thing that happens. Most of the photographic work that I do is documentary. When I enter a community, and start photographing, start asking questions, there's a modality of separation. In this case, that is there, and it's not. 
I mean, I was not going there every weekend. I would go there when something that was interesting was there, but there were people that would do this on a regular basis. It was the thing to do Friday, Saturday, or Thursday, Friday, Saturday. Trying to include myself with this experience is seen actually from the inside. And a couple of things can happen with that. It can blind me because I'm inside and I cannot see formally or concretely from the outside. But I think that's okay, too. I'm not trying to reveal anything that people don't know, I'm just trying to rescue memories of friends and people who used to go frequently.
It's now three years since this happened. It's almost 60 years since the Dr. Martin Luther King's I Have a Dream speech. And yet, here we are still dealing with racism and systemic racism and white supremacy here in our own communities. How can art be a force for change? And how can this piece be a force for change, particularly with race?
I truly believe with all my heart that art can be transformative, and it should be transformative to the outside, but it's also transforming us all the time, constantly. It's not a static thing. It keeps advancing and we keep seeing things differently, making things differently. But I think one of the main parts is that this could be a point for dialogue. That we sit down for a second, and connect and talk about our experiences. And some of them are historical, like the unrest, like the murder of George Floyd. Like the Dream speech. Like so many things.
What has it been like to be part of this process? Anything you might say about being selected to be part of this festival and how your work fits in with the greater vision for it? 
I'm very honored that they pay attention and all of a sudden I'm a part of this cohort of artists that are absolutely amazing— that I admire, that I look up to. To be part of this is a real honor. And it's also interesting because we're doing so many things that are so extremely different. There's dance, there's performance, there's technology involved, there's interactive stuff, there's things to contemplate, there are things to participate with. Being the first triennial, I think, with a collective effort, not only from the artists, but also from the Twin Cities community, this could be something that we can look forward to in the future, through the years. More artists , different artists can come. And we can have discussions of important things that are going to happen in the future, or in the past. 
It's just so ironic, or I don't even know what the word is, that both Derek Chauvin and George Floyd worked at Nuevo Rodeo. How were you thinking about that when you were putting the piece together?
I want to think about it as a place of intersection. A lady will go there, a man will go there, they will intersect, meet, maybe have a dance. Maybe they will have a relationship forever, or, or not. So one of these many intersections was this crazy time warp thing where Mr. George Floyd was working there as a security guard, and Derek Chauvin was working as a security for the place. And at the same time, maybe talking to each other. I'm making up stuff, right, maybe just passing by, but in the same place, conversing in a way that maybe back then nobody would imagine that another encounter will transform Minneapolis and transform the United States for that matter. I can attempt to transform how we see the world. Places and times. Maybe that was one of the beauties of Nuevo Rodeo, that so many lines overlap. So many paths overlap for good or for bad.
Sheila Regan is a Minneapolis-based journalist and arts writer. She contributes to the Artscape column for MinnPost, writes about dance for the Star Tribune, classical music for the Pioneer Press, and frequently contributed radio stories for KFAI's Minneculture. Her byline has also appeared in Hyperallergic, Washington Post, The Guardian, First American Art Magazine, and more.