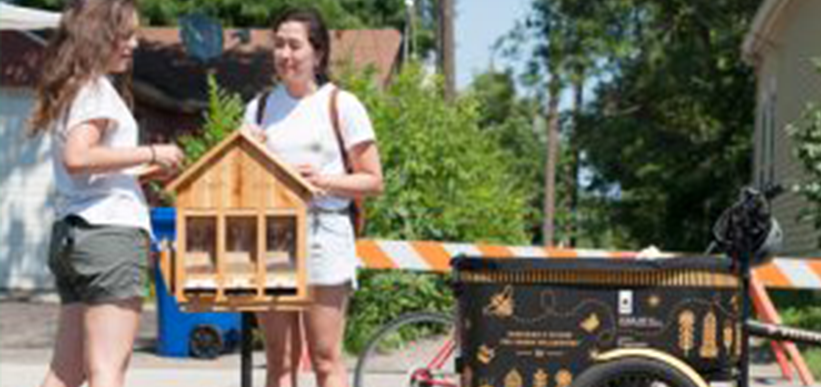 What a year it has been for artists Christine Baeumler, Amanda Lovlee and Julie Benda, creators of the project Bee Real Bee Everywhere.
Last month, with the help Blue Rhino Studios, this team of artists installed the 3rd and final pollinator Sky Rise at the intersection of Como and Hamline Ave.  And, thanks to graphic designer This is Folly, each sculpture will also soon be joined by bright yellow signposts that interpret the project in five different languages. You can visit each of the Sky Rises at the following locations in Saint Paul.
Como/Hamline Site (Woodland Nature Classroom)
But that's not all! This summer, two new Pollinator Post interns collected over 50 pledges from community members to work toward pollinator friendly practices, as well as disseminated hundreds of bronze bees to mark habitat helpers across the City.
Lastly, the Bee Real team took your community letters to the Capitol! There, your postcards and pictures were delivered to policymakers thanking them for the hard work they've already done to make St. Paul a more livable place for our urban pollinators.
To read more about these Sky Rises, the Bee Real Bee Everywhere project, and our pollinator engagement efforts visit https://publicartstpaul.org/project/bee-real-bee-everywhere/
We are grateful to the John S. and James L. Knight Foundation for an Arts Challenge grant that supports this project, along with the 1% for Public Art Ordinance in Saint Paul.